A Developer Sitting Pretty Beside The Pacific
By Gene G. Marcial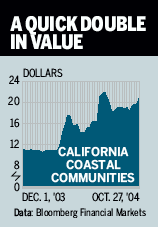 Shares of California Coastal Communities (CALC ) have doubled, to 20, this year as value and asset-play investors bought in. A builder and developer, Coastal's most valuable asset is 350 acres in Orange County, Calif., that overlook the Pacific Ocean and the Bolsa Chica wetlands: There are 208 acres north of the wetlands, 100 acres adjacent to Huntington Beach, and 42 acres of lowlands. Ben Segal, president of Winchester Capital Management, which owns shares, puts the property's value at $350 million, or 35 a share. It's carried on the books at $155 million. The value will be recognized, he says, once Coastal's plan to develop an environmentally friendly community with 379 houses in the Bolsa Chica area is approved by the California Coastal Commission.
As part of the project, Coastal has agreed to sell, for $65 million, 103 acres of its Bolsa Chica land to the state Wildlife Commission, for an upland habitat. Segal says approval of Coastal's application for a permit to build the 379 homes could come in six months. He figures the shares are worth 30. Coastal is purely a play on assets and not on earnings, says Segal. In 2003, the company earned 27 cents a share on sales of $56 million.
Note: Unless otherwise noted, neither the sources cited in Inside Wall Street nor their firms hold positions in the stocks under discussion. Similarly, they have no investment banking or other financial relationships with them.
See Gene on Fridays at 1:20 p.m. EST on CNNfn's The Money Gang.
Before it's here, it's on the Bloomberg Terminal.
LEARN MORE