By Gene G. Marcial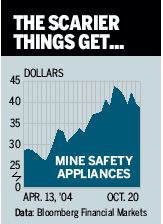 Chemical biological masks, advanced combat helmets, and self-contained breathing apparatuses are some of the products driving strong sales at Mine Safety Appliances (MSA ), global leader in body protection gear it markets in 120 countries. The 90-year-old company "is benefiting from the focus on homeland security and domestic preparedness," says Elliott Schlang of institutional research outfit LJR Great Lakes Review. Mine Safety's homeland business is growing at a "phenomenal rate," says Schlang, who owns shares. Besides the billions the federal government is spending on the war on terrorism, he notes, only 14% of the $2.3 billion budgeted for states by the Homeland Security Dept. has been awarded so far. Firemen, police, and industry use Mine Safety's other wares, such as gas detection gear and air-purifying respirators. Its stock seems bulletproof, too, rising to 37 from 18 a year ago, reflecting compounded yearly earnings growth of 57% over the past five years. While that can't last, Schlang expects at least 15% growth and sees shares at 46 in a year. He pegs earnings at $1.90 a share in 2004 on sales of $830 million, vs. 2003's $1.31 on $696 million. In 2005, he sees $2.19 on $942 million. Richard Eastman of securities firm Robert Baird (it did banking for Mine Safety in the past year) rates the stock outperform, saying earnings will support share buybacks and dividends it has paid for 86 consecutive years.
Note: Unless otherwise noted, neither the sources cited in Inside Wall Street nor their firms hold positions in the stocks under discussion. Similarly, they have no investment banking or other financial relationships with them.
See Gene on Fridays at 1:20 p.m. EST on CNNfn's The Money Gang.
Before it's here, it's on the Bloomberg Terminal.
LEARN MORE