Old Spice Makeover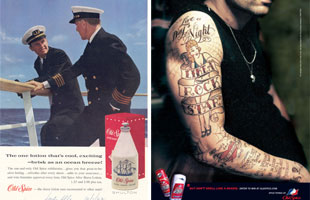 What's the top-selling deodorant and antiperspirant among teen guys? How about Old Spice, a brand once associated with a has-been, highly fragrant aftershave whose ivory bottle still gathers dust on medicine-cabinet shelves. Since Procter & Gamble Co. (PG ) acquired Old Spice in 1990 it has transformed a small stagnating brand into a men's personal-care powerhouse.
And it's not just teenagers. In the past 18 months, Old Spice has inched by Gillette Co.'s (G ) Right Guard to become the nation's leading deodorant and antiperspirant for men, with 20% of the $1 billion market, according to ACNielsen Corp. To get there, the Cincinnati consumer-products company had to pull off one of the hardest tricks in marketing: repositioning a familiar brand. "If you told me five years ago that Old Spice would be No. 1, I would have said you were dead wrong," says William R. Geary, divisional merchandise manager at Walgreen Co. (WAG ), the largest U.S. drugstore chain. "It's cool where it wouldn't have been cool five years ago." Now P&G hopes to extend its success to an array of Old Spice products.
For a company that built its name marketing the likes of Tide, Crest, and Pampers to women, selling Old Spice to men, especially young men, opens up a whole new territory. And it's turning into quite a fight, pitting Old Spice deodorant against Right Guard, with 19% of men's sales, and Unilever's new Axe body spray, with 16%. "We are right on the tail of Old Spice," says Esther Lem, a Unilever vice-president of brand development.
Already No. 1 in women's deodorant with Secret, P&G bought Old Spice specifically to get under men's arms. Started in 1937, the brand consisted mainly of an aftershave and cologne business, with a deodorant that ranked a dismal 10th in market share. By 1990 it was known mostly for its graying customer base. That's when P&G bought Old Spice from a unit of American Cyanamid for $300 million on the belief that it could take the brand younger. Plenty of marketers fail trying to do just that. Look at Levi's and Oldsmobile -- or P&G, with Ivory soap. But P&G bet that because Old Spice was less well-known as a deodorant, the brand could shed the image of your father's aftershave while keeping the masculine and rugged attributes that were a residue from years of ads featuring a whistling sailor with a girl in every port.
SKIPPING A GENERATION
P&G refocused the brand on performance, launching Old Spice High Endurance deodorant in 1994. It ditched the sailor ads and targeted guys 18 to 34, challenging them to use the product or get their money back if not satisfied. That appealed to David Celis, 17, a high-school senior in Chicago, who has been using Old Spice deodorant for three years. "It sounded appealing," he says. "If they say they would buy you another one, they must be confident people will like it."
The deodorant business grew steadily, but P&G realized it wasn't drawing in men 25 to 45, who still remembered Old Spice as a relic from Dad's era. So P&G decided to skip a generation and aim the brand at first-time deodorant users. To reach this younger group, in 1999 P&G started handing out samples of High Endurance to fifth-grade health classes, covering 90% of the nation's schools, as well as handing out "scratch-and-sniff" book covers to junior highs. Those kid customers offered another advantage -- they would pay a higher price because they had no experience in buying deodorants. In 2000, P&G launched Old Spice Red Zone, a sub-brand that cost 25% more than High Endurance and offered more protection. Sales took off, with Old Spice edging out Right Guard as the top teen brand in 2001, P&G says.
GRASSROOTS MARKETING
To get there, P&G has had to go well beyond the 30-second TV commercial since teen boys spend less time watching TV. It still does TV campaigns, including some involving NASCAR driver Tony Stewart and National Football League player Brian Urlacher. But P&G has done much more grassroots marketing. It hands out samples at skateboarding events and sponsors a contest for high-school football player of the year that gets the product into locker rooms. It has also placed Old Spice within video games, including Electronic Arts Inc.'s (ERTS ) NCAA Football 2005 game.
Competitors are hardly sitting still. Gillette carved out an edgier position when it launched Right Guard Xtreme in 2001. To kick off the recent introduction of Extreme Cool Spray -- a newfangled aerosol that sprays vertically out the top -- it ran ads in movie theaters and on TV featuring one of the stars of MTV reality show Pimp My Ride. Unilever turned the U.S. male deodorant business on its head in 2002 with the launch of Axe body spray, which it has backed with risqué television, Internet, and event advertising. The combination deodorant and fragrance proved hugely popular with young men.
P&G sees Old Spice as a beachhead into other products. It has already launched Old Spice body sprays and body washes and has licensed sales of razors and shaving cream. It even thinks it can revive aftershave and cologne sales. "This brand has the legs to be a male-grooming megabrand," says P&G marketing director Alex Lipinski. That old sailor must be whistling a new tune.
By Robert Berner in Cincinnati
Before it's here, it's on the Bloomberg Terminal.
LEARN MORE