Italy: Conflicted Math In Berlusconi's Budget
Italian Prime Minister Silvio Berlusconi is trying to follow through on his pledge to lower taxes. But he must also keep the country's budget deficit from ballooning out of control. Achieving both goals will require a lot of belt-tightening.
The government says its budget plan will trim next year's fiscal deficit by $30 billion and lower the 2005 budget gap to 2.7% of gross domestic product vs. an expected 2.9% this year. The euro zone's Stability & Growth Pact requires countries to keep budget shortfalls below 3% of GDP.
The budget doesn't include Berlusconi's $7.5 billion in planned tax cuts for next year. Those will come via a separate finance bill, expected by early November. That means holding the deficit under the 3% ceiling would require more spending restraint. Even if extra cuts are made, Raj Badiani, an economist at Global Insight Inc., sees next year's budget deficit hitting 3.3% of GDP, on top of a 3.0% shortfall in 2004.
Will the budget numbers add up? Public-spending growth is to be held at 2%. Meanwhile, regional and local authorities will be allowed to hike taxes to cover shortfalls, which could undercut the benefits of Berlusconi's planned tax cuts.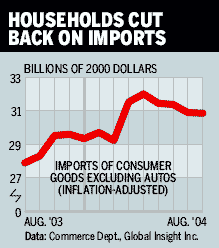 More than $8 billion of revenue is supposed to come from one-time moves such as state asset sales, but there are no guarantees the assets will fetch the expected prices.
What's more, the government has penciled in real GDP growth of 2.1% for 2005. Private economists expect 1.8% growth. Italy's economy appears to be dragging as high oil prices crimp demand. Factory output fell sharply in August, the second drop in three months.
Some measures are angering members of the coalition government. The Northern League is upset over a tax-evasion rule that would require an investigation of any small business or self-employed person who fails to declare a minimum level of income. To get Parliament's approval by the end of the year, Berlusconi may have to make concessions. But the Prime Minister has staked his political career on tax cuts, which means any changes are likely to come at the cost of a higher budget deficit.
By James Mehring in New York
Before it's here, it's on the Bloomberg Terminal.
LEARN MORE