In Shark Tale, DreamWorks Animation's latest hit, a little hustler of a fish named Oscar (voiced by Will Smith) just can't stand the truth. In the ocean's hierarchy, he's below plankton, lower even than whale poop. "Nobody loves a nobody," Oscar tells his angelfish pal Angie (Renee Zellweger). "I want to be a somebody."
Who doesn't? And surrendering to that urge is all that can explain why anyone puts money into Hollywood stocks. The latest case of this investopathy is DreamWorks Animation, maker of such computer-generated animation (CGA) blockbusters as Shrek and Shrek 2. It aims soon to split from parent DreamWorks SKG, the studio run by three amigo moguls (Steven Spielberg, Jeffrey Katzenberg, and David Geffen), in a $700 million initial public offering. DreamWorks plans to use $355 million to pay off debt and keep $175.5 million for working capital. The rest, after fees, is going to such selling investors as Microsoft (MSFT ) and its co-founder, Paul Allen.
ALLEN, AS IT HAPPENS, has been DreamWorks' chief angel since its formation back in 1994. The animation arm produced its first feature in 1998 and now has nine to its credit. With Shrek 2, DreamWorks Animation in 2004 posted first-half net income of nearly $121 million on a 118% jump in revenue, to $341 million. Had it been its own public company, however, revenue would have come to just $182 million and net to $67 million. Why? Taxes, for one thing. And as an independent company DreamWorks Animation would recognize revenue only after an 8% fee right off the top to its parent in an exclusive distribution deal, plus actual marketing expenses. On this basis, DreamWorks Animation in 2003 would have lost $158 million on $173 million in revenue.
Last year was especially bad, with just one feature and write-offs of two scuttled projects. DreamWorks aims to release two titles a year. If both are hits, as Shrek 2 -- with $437 million in U.S. box office, the third-highest grossing film ever -- and Shark Tale have proved, then profits will be a snap. Yet there's little room for a dud. DreamWorks' registration statement notes that the average studio releases 29 titles a year, spreading risks. It also points out that as CGA expands -- Sony Pictures Entertainment (SNE ) and Lucasfilm are jumping in -- competition will heat up. The CGA features that first delighted moviegoers in 1995, when Pixar Animation Studio released Toy Story, may begin to seem commonplace.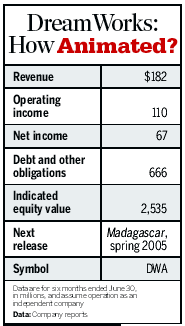 As DreamWorks' No. 1 rival, Pixar boasts a much higher market value: $4.7 billion, vs. $2.5 billion for DreamWorks if it goes public at its estimate of $24 a share. But there are some notable distinctions. First, from 1999 through June 30 this year, Pixar steadily posted net profits that total $442 million. DreamWorks in that span lost a total of $246 million. Next, Pixar owes no debt and holds $755 million in cash and high-quality bonds that mature in two years or less; on June 30, DreamWorks held $10 million in cash against debt and a variety of other obligations totaling $666 million.
Based in the Bay Area, Pixar also is more tech shop than Hollywood studio. Buy a share in Pixar, and you get one vote, same as CEO Steve Jobs, who owns 53%. Buy stock in DreamWorks Animation, however, and you will own Class A shares, good for one vote per share. Katzenberg and Geffen, who together own 13% of the company, will control 46% of the equity in the form of Class B shares.
These carry 15 votes each and give them 93% of the votes. Then there's the single share of Class C stock. It will go to Allen, and lets him pick a director to sit with him on the board. In Hollywood's hierarchy, public investors are lower than, well, you know.
Before it's here, it's on the Bloomberg Terminal.
LEARN MORE