U.S: A Tempest In Employment's Teacup?
Here's who softened September's job numbers: Frances, Ivan, and Jeanne
How much stock should you put in the September jobs report? The latest data from the Labor Dept. were certainly a surprise to almost everyone from the White House to Wall Street, and probably to the Federal Reserve. Nonfarm payrolls grew by 96,000 jobs last month, far less than the 150,000 expected by economists. The breadth of hiring was much narrower than in the spring, and the unemployment rate remained at 5.4%. But focusing on the headline-grabbing payroll number takes attention away from two key points regarding the labor markets and the economic outlook in general.
First, the recent lackluster job numbers may be saying more about the weather than the economy. Four hurricanes hit Florida and other states during August and September. With skies now a lot clearer in the Southeast and rebuilding under way, the October job report could post a reassuringly strong payroll gain.
Second, structural changes in the economy suggest the U.S. has entered a new era, where strong output translates to merely modest job gains. Not only would such a shift mean a reassessment of how inflation pressures build or what drives Fed policy decisions, it could also redefine what constitutes a strong job market in the years ahead.
Right now, however, the recent disappointing job news comes at a time when the threat from rising energy prices has gotten worse. Crude oil priced at more than $50 per barrel is lifting gasoline and heating oil costs, and the squeeze on household budgets will be greater than anticipated only a few months ago. Consumer spending could be at risk, if not in the fourth quarter, then in early 2005. At its current pace, job growth would not be sufficient to generate the income growth needed to keep households spending at a solid clip.
THAT'S WHY the latest job data were eagerly anticipated by economists, policymakers, and investors. The neck-and-neck Presidential campaign added to the urgency.
Bear in mind that the reported payroll gain deviated from the expected increase by a relatively small 50,000 workers in a payroll total of 132 million workers. The Labor Dept. said the hurricanes did not have a significant effect on its assessment of September employment, but some of Labor's data, both published and unpublished, suggest the impact may well have been large enough to cause the job shortfall -- and more.
First, Labor's data from individual states on weekly initial claims for jobless benefits certainly showed a weather-related impact. Claims rose sharply in the second half of September and then fell back in early October, most notably in the affected states.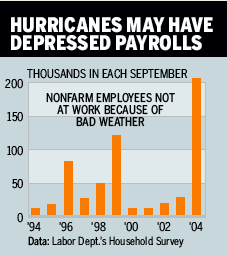 Second, Labor tracks the number of people who miss work due to bad weather. These unpublished tallies are from Labor's survey of households, which is separate from its more widely followed count of company payrolls. Excluding agriculture, since farm jobs would be expected to show a disproportionate hit, the nonfarm numbers spiked in September. The data are not adjusted for seasonal patterns, but last month's level of 205,000 was the highest for any September since Labor began keeping records in 1976, and far above the 120,000 in September, 1999, when Hurricane Floyd hit.
Other unpublished data from the household survey corroborate that spike. Labor also adds up the number of full-time workers who are working part-time. Those data also show an outsize increase to 1.9 million compared to past Septembers. The last unusually large reading was, once again, during Hurricane Floyd.
Accurately translating these data into the company survey numbers is impossible, but the pattern of payrolls during Hurricane Floyd offers some guidance. Based on the originally reported data, payrolls in September, 1999, dropped by 8,000 after averaging gains of 230,000 per month that year. In October, 1999, employment bounced back up by 310,000. To the extent that the hurricanes dampened payrolls last month, the Floyd example suggests that October employment could rebound strongly.
BECAUSE THE HURRICANES HIT a broad swath of the U.S., it is hard to separate their effects from any evidence of real weakness in specific industries. The September report did show that manufacturing jobs fell by 18,000, after factory payrolls had been trending upward so far in 2004. Retailers shed almost 15,000 jobs last month, while the information sector pared 12,000 off payrolls, most of them in the telecommunications industry.
On the plus side, however, were job gains in professional and business services, education, and health care, along with the hospitality sector. Public school jobs also posted a big increase, but again that may be weather-related, as some Southeast states had to begin their school years later than normal, a factor that may have distorted the seasonally adjusted results.
ONE SIGN THAT JOB GROWTH may not be as slack as the top-line number suggests comes from the fact that wage growth has accelerated after hitting a low in the first quarter. In September, hourly pay for nonfarm production workers was up 2.4% from a year ago, better than the 1.6% clip posted in February. The pickup was seen in both manufacturing and service paychecks.
The key question is whether wages will continue to grow fast enough to offset rising energy prices. Since gas prices began to rise sharply in early May, hourly wage growth and the total consumer price index have both risen by 1%, meaning that pay raises have been able to keep pace with higher inflation.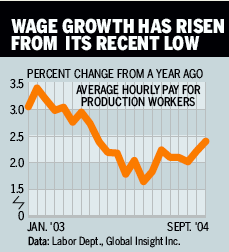 However, the expectation was that oil prices would stabilize in the second half, meaning they would not push inflation any higher. Instead, petroleum prices continue to climb. On Oct. 12, oil briefly touched a record $54 a barrel before falling back. Oil greater than $50 suggests further increases in gas prices, which rose an additional 5 cents to $1.99 a gallon for the week of Oct. 11.
The risk to the fourth quarter is that consumers will have to pull back on their spending, especially for holiday gifts, to pay their gasoline and heating bills. For now, the National Retail Federation is forecasting that holiday sales in November and December will rise by 4.5% over last year's season. That's the same solid gain posted in 2003. But consumers this year will not have tax cuts and rebate checks to help boost their spending.
Another drag on this quarter's demand may be a falloff in car sales. Without the generous incentives that lifted third-quarter sales to the highest pace this year, car buying will likely decline, slowing overall spending.
That is, unless the job markets turn around and income growth accelerates in the fourth quarter. Ever since job growth petered out in the summer after its spring surge, economists have been looking for hiring to rebound. But after the disappointing September job results and soaring oil prices, more forecasters seem less sure about that. Now, the October job report, due on Nov. 5, takes on new importance -- to see if last month's letdown was real, or if it was merely the temporary impact of Frances, Ivan, and Jeanne.
By James C. Cooper & Kathleen Madigan
Before it's here, it's on the Bloomberg Terminal.
LEARN MORE