OPEC: Where All Those Petrodollars Will Go
With oil prices touching $54 per barrel on Oct. 12, OPEC and other oil-producing nations are on their way to a windfall in export revenues. What will they do with their gains, and how will this transfer of wealth from oil-consuming countries to oil producers play out in the global economy?
Ultimately, oil revenues end up getting recycled back into the global economy in two ways: They can go to buy more goods and services from abroad, or they can be invested in foreign securities. For global growth, the former is preferable to the latter. The more oil producers increase their imports from oil consumers, the less oil-consuming nations will feel the shock of their lost wealth. And that could be a plus this time, compared with past experience.
Economists at UBS Securities (UBS ) in London note that OPEC has shown an increasing propensity in recent years to import more when oil revenues rise. From 1999 to 2003, OPEC spent 85% of its petrodollars on imports. Excluding Iraq, which was under U.N. sanctions, the figure is about 90%. Either rate is well up from the 65% of 1979 to 1984.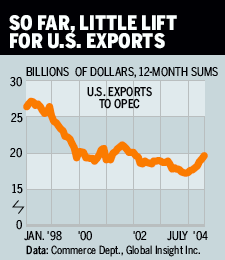 Moreover, petrodollars are being recycled back into global trade more quickly than in the past. After each of the two oil shocks of the 1970s, OPEC's outlays lagged its revenues by three years, says economist John Llewellyn at Lehman Brothers Inc (LEH ). But from 1998 to 2003, he says, OPEC spending has largely kept pace with oil revenues, although the rapid rise of oil prices in 2004 will undoubtedly create some drag.
Clearly, the revenue windfall will be a boon for the governments of oil-exporting nations since it bolsters fiscal positions and helps to repay debts. For example, Russia may well be able to restore its investment-grade credit rating as a result.
But as the petrodollars get recycled, the U.S. may not see much benefit. For one thing, U.S. exports to OPEC members remain weak. Although U.S. shipments this year are up a bit from last year's level, they are down 20% from 1998. Plus, the U.S. may not gain from new capital flows. Although there are no hard data, anecdotal reports suggest that, in the current geopolitical climate, petrodollar investments are flowing increasingly to euro-based assets.
By James C. Cooper & Kathleen Madigan
Before it's here, it's on the Bloomberg Terminal.
LEARN MORE