Mobile Mini Reaps A Whirlwind Of Sales
By Gene G. Marcial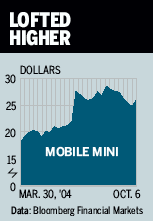 Hurricanes have created a sudden market for Mobile Mini (MINI ), a provider of storage containers to retailers, hospitals, and government agencies. Mobile buys used containers from shippers, fixes them up, and rents them for extra storage. Construction outfits also use them for offices. Mobile has five outlets in Florida, and this year's storms have enhanced Mobile's prospects, says David Gold of investment firm Sidoti, who rates the stock a buy -- and has upped his 2004 and 2005 earnings forecasts. Since March, the stock climbed from 16 to 26. Gold sees it hitting 35 in a year. (Mobile appeared in this column on July 2, 2001, at 29 -- and leaped to 40 in early 2002.) Another Mobile fan is Ken Duc of Times Square Capital, which has a 5.4% stake. Mobile "generates strong cash-flow and high profit margins," he says. Sidoti's Gold says demand will be up for 18 months or so, as repair and rebuilding progress. Florida accounts for 10% of sales, he says, and new business should add some 7% to earnings. Mobile has 100,000 containers located in 48 branches in 28 states. This year, Gold figures Mobile will earn $1.34 a share in 2004 on sales of $164 million, and $1.60 in 2005 on $181 million.
Note: Unless otherwise noted, neither the sources cited in Inside Wall Street nor their firms hold positions in the stocks under discussion. Similarly, they have no investment banking or other financial relationships with them.
See Gene on Fridays at 1:20 p.m. EST on CNNfn's The Money Gang.
Before it's here, it's on the Bloomberg Terminal.
LEARN MORE