Is Pfizer Eyeing Eyetech?
By Gene G. Marcial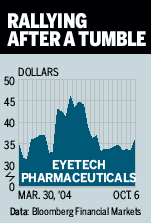 The tug-of-war between bulls and bears over Eyetech Pharmaceuticals (EYET ) may be settled soon: Bulls say the Food & Drug Administration will approve its chief product, Macugen, in December; bears say no. But the FDA is apt to run with the bulls, says Robin West, senior portfolio manager at the Santa Fe (N.M.) State Investment Council, which owns shares. The FDA's ophthalmology advisory panel recently "unanimously voted in favor of Macugen," notes West. Macugen is a new therapy for macular degeneration, which affects 1.7 million Americans. In 2002, Pfizer (PFE ) signed a $750 million pact to help develop and market Macugen. Pfizer may buy Eyetech once Macugen is O.K.'d, West figures. In August, Eyetech stock fell from 46 to 32 as rumors spread that the panel would say no. But in September it rallied and is now at 36. "FDA approval is on track for late 2004," says Eric Ende of Merrill Lynch (MER ), which has done banking for Eyetech. Rating the stock a buy, he has a 12-month target of 53. Because Macugen "fills an unmet medical need," says Ende, it could generate sales of $90 million in 2005 alone. Already in the market is Novartis' (NVS ) rival product, Visudyne, which Ende says has "limited efficacy." Eyetech should turn profitable in 2005, he says, earning 19 cents a share, and 81 cents in 2006. Pfizer declined comment. Eyetech didn't return a call for comment.
Note: Unless otherwise noted, neither the sources cited in Inside Wall Street nor their firms hold positions in the stocks under discussion. Similarly, they have no investment banking or other financial relationships with them.
See Gene on Fridays at 1:20 p.m. EST on CNNfn's The Money Gang.
Before it's here, it's on the Bloomberg Terminal.
LEARN MORE