U.S.: Big Business Is A Big Spender Again
A broad-based capital-spending recovery is solidly under way
Capital spending is the lifeblood of future economic growth. Business investment in new equipment and buildings provides the means for expanding production, which generates growth in jobs, incomes, and demand. Longer-term, it also forms the base for gains in productivity and living standards. Given the solid fundamental supports for capital spending, this economic recovery appears on its way to a healthy 2005.
Indeed, the capital-spending upturn is now entering a new phase. What began as a recovery fueled by the need to replace short-lived high-tech equipment, such as computers, has broadened into increased demand for longer-lived heavy machinery and other more traditional capital goods. Even outlays for business construction are showing signs of life after a steep, three-year plunge.
Clearly, high oil prices have raised some uncertainty about future demand. However, business outlays didn't miss a beat in either the spring or summer quarters, when oil rose into the $40-to-$50 per barrel range. In the second quarter, outlays for new equipment and buildings rose at a 12.5% annual rate, and based on recent monthly data on capital-goods shipments and construction spending, investment outlays in the third quarter should at least match last quarter's gain. Although consumer spending slowed in the second quarter, strong business investment helped the economy to grow a healthy 3.3%.
COMPANIES WILL CONTINUE TO INVEST for very basic reasons. For one, the pickup in demand last year caught businesses by surprise. Inventories are still exceptionally low relative to sales, and the massive elimination of capacity excesses that had built up in the late 1990s now appears to have generated some pent-up demand for capital equipment that has not yet been satisfied.
Also, financial conditions remain very accommodative. Profits and cash flow are growing more slowly, but the pace has fallen from spectacular to merely very good. And with corporate balance sheets in the best shape in years, low interest rates and friendlier banks are finally fueling a recovery in business borrowing, the newest indication that companies are looking to expand their operations.
The recovery in U.S. manufacturing is another key reason why the capital-spending upturn is broadening. Factories are spiffing up and beefing up their production capacity in response to better demand. To be sure, utilization rates, averaging 76% in August, are low, but operating rates have been rising since the second half of 2003. Historically, capital spending turns up as utilization rates start to rise.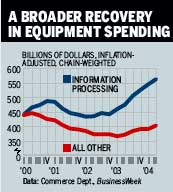 In addition, businesses may have gone too far in redressing their capacity excesses. For almost three years, nonfinancial corporations allowed equipment to wear out at an unusually rapid pace, compared with the rate at which new gear was bought. Now, the ratio of new outlays to depreciation is rising as businesses recognize the need for more capacity. Even the growth rate of manufacturing capacity, after falling from 8% per year in 1999 to 1% at the start of 2004, is slowly starting to accelerate.
Business outlays for equipment other than high-tech gear, which continued to fall for a year after tech outlays bottomed out, are now turning around. Over the past year, spending for various industrial and transportation equipment has picked up strongly, growing 8.6% from a year ago. That growth rate is faster than in any similar period of the investment boom of the late 1990s.
In the tech sector, outlays for communications equipment, which accounted for more than half of the recession cuts in tech spending, are making a comeback. Over the past year, inflation-adjusted telecom outlays have grown 22.7%. That's on a par with their 21.9% annual pace averaged during the telecom boom from late 1997 to late 2000. Clearly, operating at only 54.7% of capacity, the telecom industry still has a long way to go, but the capital-spending revival is helping.
MORE ENCOURAGING NEWS on capital spending comes from the construction industry. After the steepest contraction in business sector building in the postwar era, companies are slowly starting to build again. So far, the gains aren't much to get excited about, but they portend continued growth in the coming year.
In July, outlays for all types of private-sector business construction rose 5.9% from a year ago. That's far from robust, but it was the best yearly showing since just before the recession began in early 2001. Outlays in the important commercial and office areas, more than 40% of the total, are now rising, albeit at a slow pace. The hot areas are hotels and lodging, health care, amusement and recreation, and power-generating utilities, all of which are growing at double-digit rates.
One sign that the upturn in business construction will be slow but steady is that vacancy rates have peaked, although they remain high. Another plus: So far this year, contracts for business construction, which tend to lead actual outlays, are running ahead of the average for all of last year, according to McGraw-Hill Construction Dodge (MHP ). A rise for the year would be the first since 2000.
PERHAPS THE MOST FAVORABLE PART of the capital-spending outlook is the extremely accommodative financial conditions that companies now enjoy. For most of the past year, they have been able to finance all of their outlays for new capital equipment, buildings, and inventories out of their current gusher of cash, something that has rarely been possible in the postwar era.
Cash flow has received a special boost from the "bonus depreciation" provisions of last year's tax package. Although the provisions are set to expire at yearend, the Federal Reserve Bank of Philadelphia reported that the companies it surveyed generally do not plan to cut back their capital spending as a result of the expiration.
With internally generated funds plentiful, companies have avoided heavy borrowing, reduced debt, and repaired balance sheets, even while they were boosting their capital spending. Over the past year, assets of nonfinancial corporations have grown more than twice as fast as liabilities, and their ratio of credit-market debt to net worth has fallen to the lowest level since 1989.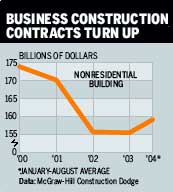 Profit growth is now slowing, a trend that is typical at this point in the recovery, as costs pick up and productivity slows. So companies can now turn to the credit markets and banks to finance their operations, and interest rates are very low. Already, businesses show new signs that they are borrowing more. Commercial and industrial loans from banks have turned up in recent months, after a three-year decline. And the Federal Reserve reports that banks are actually easing their lending standards this year after more than five years of tightening them.
Despite all these supports, business decisions on capital spending will boil down to one thing: Confidence in future demand. Oil at $50 per barrel for the rest of the year might well generate a new round of corporate caution. Still, history shows that once a capital-spending recovery gains momentum, it takes a lot to slow it down.
By James C. Cooper & Kathleen Madigan
Before it's here, it's on the Bloomberg Terminal.
LEARN MORE