U.S.: What's Everyone So Rattled About?
Despite record wealth, business and consumers remain wary of the future
Money can't buy happiness. And it doesn't seem to buy confidence, either. The latest data from the Federal Reserve show that U.S. households and corporations have seen their net worth levels rise to record highs, and both sectors are sitting on mountains of cash. Yet, uncertainty -- whether about Iraq, the upcoming elections, or fuel costs -- is nipping at the economy's heels. Consumers are worried about job security and the future of gas and heating oil prices. Companies seem reluctant to commit to expansive hiring plans. And early warnings about profits have rattled the stock market. Even the weather is unsettled; hurricanes could skew the third-quarter data, especially on payrolls.
This persistent and widespread uncertainty is driving a wedge between the rapidly improving financial conditions of households and businesses and what those very strong balance sheets would typically imply for the outlook. Despite the economy's solid fundamentals, questions about the second half still loom.
Does that mean uncertainty could scuttle the recovery? Right now, that looks unlikely. First, despite their jitters, consumers are on track to increase their spending at an annual rate of about 3.5% in the third quarter. Second, companies may not be hiring in droves, but they are adding to their payrolls and going ahead with capital-spending projects. Business investment in new equipment accounted for more than a third of the growth in real gross domestic product in the second quarter.
Lastly, the Fed sounded a bit more upbeat about the economy after its Sept. 21 meeting than it did in August. As expected, policymakers hiked the federal funds rate by a quarter-point, to 1.75%. In its announcement, the Fed said the economy "appears to have regained some traction" and that labor markets have improved modestly, while inflation has eased. Some analysts had speculated that the Fed would signal a pause in its tightening process. But policymakers gave no such hint, suggesting another rate hike at the Nov. 10 meeting is likely.
BUT IT MAY TAKE MORE than the Fed's assurances to convince wary households and corporations. Keep in mind that uncertainty has been the hallmark of this recovery. Over the past three years, demand has been buffeted by a host of unknowns, from terrorism to corporate scandals to war. Luckily, the current run of uncertainty should begin to dissipate after the economy gets past two upcoming events: earnings season and the Presidential election. Once investors know the outlook for profits and who will occupy the White House, two big clouds now hanging over the outlook will lift.
Uncertainty matters, of course, because it causes economic players to sit on the sidelines. In the past, Fed Chairman Alan Greenspan has compared uncertainty to walking into an unlit room. Faced with darkness, the occupant tends to freeze up. That may be happening again: Consumers and businesses seem to prefer to hold on to their cash rather than spend it on goods and services or invest in the financial markets.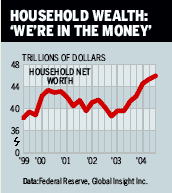 According to the Fed, households in the second quarter held a record $5.5 trillion in such near-cash assets as checking deposits and money-market accounts. That's up $233 billion from a year ago. Corporate cash flow dipped slightly from its record high of $1.3 trillion in the first quarter, but it's up $122 billion over the past year.
For consumers, total net worth hit a new high of $45.9 trillion. True, wealth is not evenly distributed among the population. According to the latest available data for 2001, the wealthiest 10% of households had a median net worth of $1.3 million, while the bottom 25% had just $1,000. Even so, the imbalance does not alter the economic rule that 3 cents to 5 cents of each dollar of sustained wealth will be spent, helping to boost overall demand.
The big wealth gains in the second quarter came from corporate equities and housing. Holdings of stocks and mutual funds were up $1.4 trillion over the past year. However, it's interesting to note that equities as a share of financial assets have slipped from 35% in early 2000 to 27% today. Most of the wealth has shifted into liquid assets, as uncertain investors stay out of the markets.
ONE AREA where consumers feel no jitters is housing. Americans still see homeownership as one of the best investments around. Indeed, housing equity -- total home values less mortgage outstanding -- rose an additional $919 billion in the year ended in the second quarter.
Thanks in part to the recent fallback in mortgage rates, demand for homes remains solid. Housing starts in August edged up 0.6% to an annual rate of 2 million. And the National Association of Realtors is forecasting another record number of home sales for 2004.
Mortgage rates should stay reasonable because inflation is not the problem bond traders thought it would be. Remember that back in the spring, surging demand and the spike in oil prices caused consumer prices for all goods and services to jump at a 5.5% annual rate for the three months ended in May. Even excluding food and oil, core prices were rising at a 3.3% pace. That led to fears of a new inflation spiral and pushed up long yields. But in the three months ended in August, overall inflation was back down to 1.3%, and the core rate was 1%.
LOW INTEREST RATES also suggest that worries about consumer debt levels are overblown. Total household liabilities rose 9.3% in the year ended in the second quarter, with most of the jump coming in mortgage obligations. However, the value of households' real estate holdings has risen more than twice as fast as mortgage debt. Consumer credit, including credit-card and other revolving balances, is up only 4%.
Households' overall financing burden has actually declined over the past year. Since aftertax income is up about 6%, and since low rates over the past year induced many homeowners to refinance their mortgages, the amount of income needed to service household debt used up 13.1% of income in the second quarter, down slightly from 13.24% a year ago.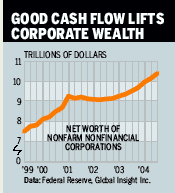 For Corporate America, the situation is much the same as for consumers: lots of cash and manageable debt. The Fed data show that the net worth of nonfarm nonfinancial corporations rose almost $900 billion, to $10.4 trillion in the second quarter. Although assets rose 6%, businesses did not add much to their liabilities. But that trend may be changing. Commercial and industrial loans began to turn up this summer. That may indicate companies are shedding their caution. Another good sign is the rise in capital spending.
But beyond that, companies seem to be holding back. Businesses have not hired new workers or added to their inventories at the rates normally seen in an economy growing at a 4.5% yearly pace.
Instead, executives still seem stuck in Greenspan's metaphoric darkroom, waiting for the lights to be switched on. What the economy needs most are the conditions in which businesses and consumers feel more secure about making the investment and spending decisions that will drive this recovery into 2005.
By James C. Cooper & Kathleen Madigan
Before it's here, it's on the Bloomberg Terminal.
LEARN MORE