Dresser: The Halliburton Cast-Off That Could
Dick Cheney, vice-president and avid fly fisherman, doubtless tells a few tales of landing big ones. From his years as CEO of Halliburton (HAL ), though, none was bigger than Dresser Industries, a venerable name in oil-field equipment and services that Cheney hooked back in 1998 with $7.7 billion in Halliburton stock.
Soon, he began to cut Dresser up. One part, laden with asbestos liabilities, still haunts Halliburton, having plunged some units into a widely recounted, and ongoing, bankruptcy. The fate of another piece, which Cheney put up for sale in his last strategic move as CEO before leaving in July, 2000, to join the Republican ticket, is less well-known. Controlled now by a pair of private equity firms, the company, which kept the name Dresser, makes such sundry gear as natural gas engines, oil-field valves, and automated gas pumps for "pay-at-the-pump" filling stations. Halliburton, it turns out, might have been wiser to keep this part.
DRESSER NOW WANTS to sell stock in an initial public offering. While only rarely do IPOs merit individual investors' attention -- the odds usually are stacked against them -- Dresser may be an exception. With its execs keeping mum, we still don't know how much of the company's equity will be for sale or at what price. Yet when Dresser does disclose those key numbers, prospective investors will have much more information to evaluate them with than is usual for companies going public. That's because in 2001, when those private-equity firms, First Reserve and Odyssey Investment Partners, took over Dresser, they financed some of the deal with publicly traded junk bonds. So Dresser has had to disclose quarterly financial statements. It even conducts conference calls, which you can listen to via the Web (fulldisclosure.com).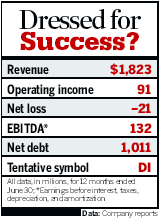 Halliburton tossed back this part of Dresser because its focus on equipment manufacturing did not fit with Cheney's emphasis on energy, engineering, and construction services. That did not slow Dresser, which traces its roots to Pennsylvania's oil fields of the 1850s and whose long list of customers includes the likes of ExxonMobil (XON ) and BP (BP ). Sales kept growing, to $1.8 billion in the latest four quarters, with a bigger share, 57%, coming from overseas markets, including India and China. Dresser's backlog has risen 22% in the past year, to $560 million. This year, Dresser sees earnings before interest, taxes, depreciation, and amortization, or EBITDA, of $180 million to $200 million, or about twice last year's $97 million (excluding a European energy distributor it bought in June).
As always, there are risks. While Halliburton indemnified Dresser from asbestos claims, and Dresser takes pains to disassociate itself from Halliburton, it faces its own political risk.
In July, Dresser told Washington that the Dubai branch of one of its U.S. subsidiaries may have sold valves and other gear to Iraq, Iran, and Sudan without government authorization. What penalties it faces are unknown, but Dresser expects sales abroad won't be slowed.
In any case, Dresser will aim to get as much as it can for its stock in the IPO. What's it worth? One guide is the multiples of its competitors' sales and EBITDA. Cooper Cameron (CAM ), a rival in oil-field valves, has an enterprise value (stock market capitalization plus net debt) of $3 billion, or 1.6 times sales and 17.5 times EBITDA. Danaher (DHR ), the other half of a global duopoly in high-tech gas pumps, trades at three times sales and 16 times EBITDA. At like multiples, Dresser's value, including net debt of $1 billion, would range from $3 billion to $3.6 billion. Little more than three years ago, Halliburton let Dresser go for much less, just $1.6 billion.
Before it's here, it's on the Bloomberg Terminal.
LEARN MORE