Britain: Rate Hikes May Take A Breather
While the U.S. has only begun to lift interest rates, and the euro zone hasn't even started, the Bank of England might well be finished.
After a series of five quarter-point hikes since last November, taking the target rate to 4.75%, the BOE's policy tightening appears to be having its desired effect: Britain's housing market is finally cooling off, and consumer spending is almost sure to ease back in tandem. So a November rate hike, which had been widely expected to be the money managers' last in the series, may be off the table.
Mortgage lending plunged in July and remained sluggish in August, according to the British Bankers' Assn. Halifax Bank, Britain's biggest mortgage lender, said house prices in August fell 0.6% from July, the first decline in two years. And based on a sampling from the property lister Rightmove, prices were essentially unchanged in the four weeks through mid-September.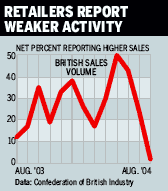 By some estimates, the price runup has left homes up to 30% overvalued. Given strong labor markets and interest rates that are not high by historical standards, a sharp decline in home prices seems unlikely. Nevertheless, with the sudden weakening in the housing market, the BOE said in the minutes of its September meeting that it "may have underestimated the potential for an associated downward impact on consumption."
August retail sales rose, but they had plunged in July. And the August survey of retailers by the Confederation of British Industry showed a sharp weakening in activity. Economists at J.P. Morgan Chase & Co. (JPM ) estimate that, if monthly growth in home prices falls to slightly above zero in the coming 18 months, yearly growth in consumer spending will slow from 3.2% last quarter to 2% by the end of 2005. An outright drop in prices would hit even harder.
Coming on top of new questions about a global slowdown, and given that inflation is expected to stay well below 2% this year and next, new uncertainties over housing could put policy on hold for a long while. And unlike the Federal Reserve or the European Central Bank, the Bank of England has plenty of room to cut rates if Britain's housing bubble starts to lose air too fast.
By James C. Cooper & Kathleen Madigan
Before it's here, it's on the Bloomberg Terminal.
LEARN MORE