Alliance Could Be "The Comeback Kid In Vegas"
By Gene G. Marcial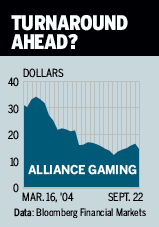 Investors who gambled big on Alliance Gaming (AGI ) in early April when its stock was flying at 34 a share have ended up as huge losers: The stock is now at 15. Except for a few brave souls, most analysts are sour on Alliance, the No. 2 maker of slot machines. One courageous pro buying the battered stock is Jason Ader, an ex-gambling analyst and now CEO of Hayground Cove Asset Management. "Alliance is a turnaround story and will be the comeback kid in Vegas," says Ader, who figures the stock will get back to the mid-30s in a year.
Investors bailed out of Alliance when it missed earnings forecasts in its fiscal fourth quarter ended June 30, 2004. A slowdown in casino expansion in Las Vegas, plus fierce competition, hurt earnings. But now Ader is hopeful that Alliance's new CEO, Richard Haddrill -- seen as a turnaround ace, with a solid track record -- will resuscitate the company. Jeff Martin of Roth Capital Partners sees demand for gambling devices picking up in 2005, based on increased Indian gaming, a Las Vegas rejuvenation, and more video lotteries at racetracks.
Alliance has invested heavily in improving its machines to capture market share, says Martin. He sees earnings of 90 cents in fiscal 2005 and $1.19 in 2006, vs. 85 cents in 2004. His 12-month price target: 22.
Note: Unless otherwise noted, neither the sources cited in Inside Wall Street nor their firms hold positions in the stocks under discussion. Similarly, they have no investment banking or other financial relationships with them.
See Gene on Fridays at 1:20 p.m. EST on CNNfn's The Money Gang.
Before it's here, it's on the Bloomberg Terminal.
LEARN MORE