By Gene G. Marcial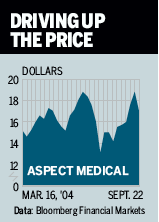 Aspect Medical Systems (ASPM ), a leader in brain monitoring technology, may be in play. So say some pros, who note that Boston Scientific (BSX ) has been buying Aspect stock in the open market since July -- raising its stake to nearly 25%. The shares have leaped to 17, up from 13 in July. Through Sept. 17, Boston had paid 14 to 19 a share for some 600,000 shares of Aspect. A money pro at a hedge fund that owns shares (who doesn't want to be named) says Boston's buying pattern is a sign it's seeking control. Boston, with a market cap of $32 billion, is best known for its drug-coated stent used for coronary-artery disease. It also makes minimally invasive devices used in cardiology. Suraj Kalia of Northland Securities, who tags Aspect a buy, says it's a good fit and would diversify Boston's revenues. Aspect's noninvasive monitoring system, called BIS, helps manage a patient's consciousness during surgery and administers the precise amount of anesthesia. Aspect has teamed up with Pfizer (PFE ) and Eli Lilly (LLY ) in clinical studies on the use of BIS in measuring the impact of antidepressant drugs and in the early detection of Alzheimer's. Kalia says that on fundamentals alone, Aspect is worth 23 but should fetch 30 in a buyout. He sees Aspect still in the red in 2004 but predicts earnings of 18 cents a share in 2005 on sales of $62.8 million. Boston Scientific won't comment on the buyout talk. Aspect didn't return calls.
Note: Unless otherwise noted, neither the sources cited in Inside Wall Street nor their firms hold positions in the stocks under discussion. Similarly, they have no investment banking or other financial relationships with them.
See Gene on Fridays at 1:20 p.m. EST on CNNfn's The Money Gang.
Before it's here, it's on the Bloomberg Terminal.
LEARN MORE