Why ABX Air Is Really Delivering
By Gene G. Marcial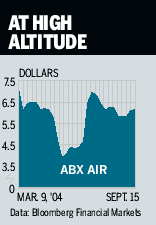 Since being acquired in 2002 by Deutsche Post, DHL Worldwide Networks has upped its business: It has become more visible in the U.S. -- and was the official express delivery service of the U.S. Olympic team in Athens. One outfit profiting from DHL's newfound energy: ABX Air (ABXA), an air-cargo carrier with a fleet of 116 planes that provides DHL with airlift and sorting services.
With about 95% of ABX's revenues coming from DHL, recent Deutsche Post outlays to promote DHL in the U.S. assure ABX of steady sales, says Ben Segal, president of Winchester Capital Management, which owns shares. Deutsche Post has said it will spend $1.2 billion to expand DHL. "ABX is still undiscovered by the Street," says Segal, who thinks the stock could double in a year, figuring it could earn 58 cents a share in 2004 and 70 cents in 2005. In August, ABX won a contract to manage the U.S. Postal Service's handling operations in Indianapolis.
ABX had revenues of $1.1 billion last year. Previously a unit of air-freight company Airborne, ABX was spun off soon after Airborne was acquired by DHL. The stock is at 6.18, up from 3.50 in May.
Note: Unless otherwise noted, neither the sources cited in Inside Wall Street nor their firms hold positions in the stocks under discussion. Similarly, they have no investment banking or other financial relationships with them.
See Gene on Fridays at 1:20 p.m. EST on CNNfn's The Money Gang.
Before it's here, it's on the Bloomberg Terminal.
LEARN MORE