Japan: A Dip, Not A Collapse
The downward revision to Japan's second-quarter growth rate has raised questions about the economy's recovery. But other data argue against another downturn.
Real gross domestic product grew at an annual rate of just 1.3% in the spring, down from the original 1.7% estimate -- and far below the 3.5% rate to which economists expected the figure would be revised. Weaker exports, especially to the major markets of the U.S. and China, was one reason for the slowdown. Monthly exports kept falling in July, suggesting that third-quarter data will also be soft. Weak exports are hurting factory production. Industrial output in July was unchanged from June's level.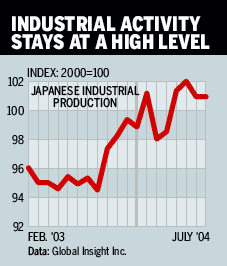 The yen and the Nikkei 225 stock average fell on the GDP news, but traders seemed to be ignoring the favorable numbers in the report. First, one reason for the downward GDP revision was a drop in inventories. And part of that reflected a jump in sales of air conditioners during an unusual heat wave in Japan -- a sign of firming domestic spending. Also, business investment rose 4.9%, instead of being flat as was first thought. That upward revision dovetails with the optimistic results of the Ministry of Finance's latest corporate survey. Sales, profits, and profit margins all rose in the second quarter. Plus, the banking system continues to improve slowly, providing more credit to companies. And with the U.S. slowdown now over, American demand for Japanese goods is sure to rebound in the second half.
For the consumer sector, confidence is gaining ground, and the labor markets are slowly mending. Household income has stagnated, but with consumer prices dropping, household buying power is gaining.
Given such positive signs, it's no surprise the Japanese government is sticking with its forecast that the economy will grow 3.5% this fiscal year, which ends in March, 2005. And the Bank of Japan maintained a confident stance in its September monthly economic report. The BOJ stated: "Japan's economy is expected to continue to recover, gathering stronger momentum." So while the second-quarter GDP report certainly was disappointing, it seems too early to rethink Japan's recovery.
By James C. Cooper & Kathleen Madigan
Before it's here, it's on the Bloomberg Terminal.
LEARN MORE