These Chips May Keep SUVs From Rolling Over
By Gene G. Marcial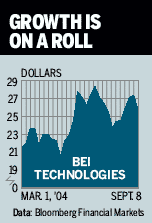 Little-known Bei Technologies (BEIQ ) is catching the eye of investors: Its GyroChips may be part of the solution for sport-utility vehicles that roll over. The GyroChip, first used in military aircraft, powers electronic sensors that detect when a vehicle begins to tilt. It rights the vehicle by automatically slowing the engine and activating the antilock brakes.
Germany's Continental Teves is BEI's largest customer, supplying Ford Motor. On July 23, Ford (F ) announced it would install stability-rollover systems in the Explorer and three other SUV models. Ford has been sued over Explorer rollover accidents. General Motors (GM ) also uses the BEI systems. "Demand for the chip has grown so fast that BEI has had to ramp up production," says Steve Cohen, a partner at investment firm Kellner DiLeo Cohen, which owns shares. That has caused BEI stock to leap up -- from 20 in May to 25. Cohen sees BEI hitting 36 in a year, based on his earnings forecast of 87 cents a share in 2004 ending Sept. 30, $1.35 in 2005, and $1.60 in 2006, way up from 39 cents in 2003. Demand for stability-rollover control product is gaining momentum, says Michael Harris of investment firm Robert W. Baird. BEI says it will ship 3.7 million GyroChip units by the end of fiscal 2004. Its forecast is to ship 5.5 million in 2006.
Note: Unless otherwise noted, neither the sources cited in Inside Wall Street nor their firms hold positions in the stocks under discussion. Similarly, they have no investment banking or other financial relationships with them.
See Gene on Fridays at 1:20 p.m. EST on CNNfn's The Money Gang.
Before it's here, it's on the Bloomberg Terminal.
LEARN MORE