Southeast Asia: Higher Oil Prices, Lower Output
Southeast Asia has benefited greatly from the global economic upturn. A rebound in business spending worldwide had boosted the region's level of exports and helped domestic demand. But this year's surging oil prices, which are slowing global expansion and upping production costs, are starting to put a brake on the region's growth.
The different economies are still doing well, but some effects from oil prices are emerging. In Thailand, second-quarter real gross domestic product eased to an annualized pace of 6.3%, after peaking at 7.8% in the last period of 2003. Growth was slowed by oil prices and an avian flu outbreak. The still-high level of oil prices led the government to cut its 2005 growth estimate to a range of 5.5% to 6.5%, from an earlier 7.5%. Singapore's government also warned that high oil prices could stunt growth next year.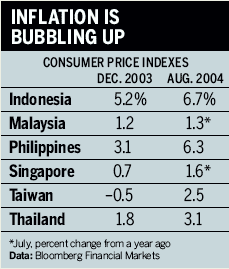 China's importance as an export market for other Asian economies makes the country's growing dependence on foreign oil a particular concern. Most Southeast Asian countries, moreover, do not use energy efficiently. So the higher energy bills are lifting costs, another drag on production.
Manufacturers can't pass along the higher costs to their foreign customers. Andy Xie, a Morgan Stanley (MWD ) economist, says companies lack the proprietary technology or brand identity that can give them leverage over buyers to preserve profit margins.
Businesses appear to be raising domestic prices to make up for exports' narrowing profit margins. Inflation has accelerated across the region. In the Philippines, consumer prices were up 6.3% in August from the previous year, vs. 3.1% at the end of 2003. The Central Bank of the Philippines may soon have to follow Thailand and hike interest rates.
Higher inflation and borrowing rates could erode consumer purchasing power, especially if the excess supply of unskilled labor keeps wages down. There has been a move in the region to lift domestic demand as a means of reducing the reliance on exports for growth, but the latest oil-related developments could deal a blow to these efforts.
By James Mehring in New York
Before it's here, it's on the Bloomberg Terminal.
LEARN MORE