By Gene G. Marcial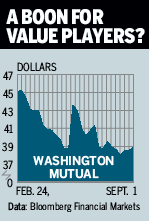 Washington Mutual (WM ), the world's largest savings bank, with assets of about $280 billion, has become something of a pariah on the Street: Not one major analyst rates it a buy. Earnings from mortgage lending of $489 million in the second quarter of 2003 swung to a $63 million loss in 2004's second quarter -- forcing WM to lower its earnings forecast for 2004 and ax 2,500 from its mortgage banking staff. WM invested heavily in its mortgage business by expanding its workforce and offices, assuming that the mortgage boom would continue. But the rise in interest rates cut volume and crippled earnings. Its stock fell from 45 in February to 38. Enter value players: John Maloney, president of M&R Capital Management, which sold its WM shares a year ago at 43, is buying now. "That's value investing -- buying tormented stocks that have great chances of recovering from their grief," he says. He believes WM could hit 44 in a year, when he expects its mortgage woes to be fixed. In a year, WM could be back at "a respectable earnings run rate of $200 million in mortgages," he says. So it could earn $3.70 a share in 2005 and $4 in 2006, up from an estimated $2.85 in 2004. Erik Eisenstein of Standard & Poor's (MHP ), who rates WM a hold, sees its retail store banking -- which will add 250 locations this year on top of the 250 opened in 2003 -- as a source of new earnings growth.
Note: Unless otherwise noted, neither the sources cited in Inside Wall Street nor their firms hold positions in the stocks under discussion. Similarly, they have no investment banking or other financial relationships with them.
See Gene on Fridays at 1:20 p.m. EST on CNNfn's The Money Gang.
Before it's here, it's on the Bloomberg Terminal.
LEARN MORE