As the U.S. women's relay mishap at the Summer Olympics showed, teamwork is the crucial ingredient to getting the job done. That's why the latest news from the economy's most important tandem, consumers and businesses, is so important to the outlook. Recent reports from the nation's households, manufacturers, and chief executives all indicate the economy has crossed over its spring soft patch. Already, signs for economic growth in July and August are encouraging, even as the boosts from tax cuts and cheap financing disappear.
For consumers, the last few months have been a roller-coaster ride. Record gas prices and weak job growth took their toll on spring consumer spending and August confidence. But now, gas prices have come down sharply from their May highs, and consumers have returned to the shopping malls and car dealerships. Household purchases began the third quarter by posting a big increase, although future shopping gains will depend largely on the pace of job and income growth.
Businesses, meanwhile, have raced out of the starting blocks and become more forceful players in this recovery. Optimism among CEOs is rising. Manufacturers reported that business activity in August continued to move ahead briskly. And the outlook for profits, while not as heady as in 2003's second half, remains solid.
At the same time, the stock market has risen from its summer lows, and inflation fears, which pushed up bond yields in the spring, proved unfounded. In July prices for consumer goods and services were flat. That suggests the Federal Reserve can take its time raising short-term interest rates, another plus for the outlook. But most important, by working in concert, businesses and consumers assure that growth in the second half will be stronger than it was in the first two quarters.
THE IN-SYNC MOMENTUM of consumers and businesses can be seen in the latest revisions to gross domestic product. Real GDP growth was refigured down to an annual rate of 2.8%, from 3%, mainly reflecting a sharp deterioration in the foreign trade deficit as slower global growth held back exports. But real consumer spending and business investment on new equipment were revised higher. Also, businesses are finally restocking inventories at a pace that is adding to economic growth. As a result, domestic demand grew at a 4% annual pace last quarter, up from the 3% rate previously reported.
The growth in demand continued into July. Real consumer spending increased by 0.8% from June, while shipments of capital goods were well above their second-quarter average. In addition, inventories of durable goods rose 0.8% for the third month in a row.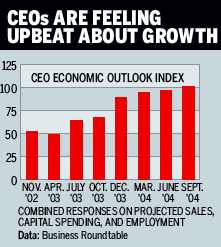 Without this surge in inventories, delivery and shortage problems could have threatened to curtail the factory rebound. Instead, the August readings on the factory sector show that activity, while a bit slower than in July, was still growing at a healthy clip. The Institute for Supply Management's manufacturing index slipped to 59%, from 62% in July. A drop in production was mostly responsible for the slowdown. Still, as the ISM noted, "both new orders and production remain at high levels." The ISM said that the August reading, if maintained for a year, is historically consistent with 5.9% economic growth. But so far this year, the index is averaging an even higher 61.9%.
Clearly, businesses are feeling better about the economic outlook, an optimism that shows up in the September survey by the Business Roundtable, an association of CEOs of large U.S. corporations. The Roundtable's CEO economic outlook index rose to 101.7, the highest reading in the survey's two-year history. The report said executives expect "further increases in hiring plans, gains in capital spending, and a robust level of expected sales" over the next six months.
ONE REASON FOR THE BETTER MOOD in the corner office is that corporate coffers are awash with cash. Corporate America has not loosened its grip on labor costs by much, and so the outlook for profit growth is not as dire as this year's performance in the stock market suggests. In the second quarter, the demand slowdown cut into operating profits -- earnings adjusted for depreciation and inventory valuations. The Commerce Dept.'s tally of earnings edged up by just 0.1% from the first quarter. But compared with a year ago, profits were up a still robust 18.4%.
To be sure, yearly growth is slowing. Last quarter's pace was down from a 27.8% jump in the first quarter. But companies are still managing their costs quite well, and that is helping profit margins. The margin earned for each unit of real GDP produced by nonfinancial corporations rose to 11% in the second quarter, the highest percentage in five years.
Margins might slip in the second half, as the effects of volatile oil prices work through the data and productivity gains slow. But the higher level of margins compared with one or two years ago means profits should get a double boost in the second half: The pickup in demand will bolster revenues, while high margins mean more of that cash will fall straight to the bottom line.
WHAT REMAINS TO BE SEEN is if the more buoyant business sentiment translates to greater hiring in the second half. Indeed, the key area where the baton handoff between businesses and consumers might falter is job growth, should second-half hiring continue its second-quarter malaise rather than return to its first-quarter muscle.
That fear weighed on consumers in August. The Conference Board said its confidence index last month fell a large 7.5 points to 98.2 from 105.7 in July. Consumers' assessments of the present economic situation plus their expectations both dropped sharply.
The board said "the slowdown in job growth has curbed consumer confidence," noting that the percentage of respondents expecting fewer jobs in the next six months rose to 15.4% from 13.5% in July. Worries about energy prices, along with little progress toward stability in Iraq, probably also made householders wary.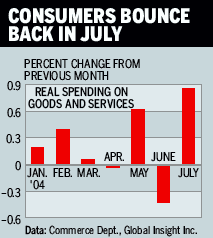 The August confidence reading came off a two-year high posted in July, and it was in that month that consumers posted their largest spending gain of the year. Purchases increased by 0.8% from June, when they had fallen 0.4%, after adjusting for prices. Motor-vehicle sales led the advance, but nondurable goods and services also posted increases. If the July jump is followed by even modest gains in August and September purchases, then real consumer spending could grow at a 4% annual rate this quarter, much faster than its 2.9% gain over the first half.
With consumers spending at that pace, and teamed up with continued double-digit growth in business outlays, overall demand will remain strong. That will keep output growing and assure the solid gains in jobs and incomes necessary to keep the economy moving smoothly and swiftly down the track.
By James C. Cooper & Kathleen Madigan
Before it's here, it's on the Bloomberg Terminal.
LEARN MORE