South Korea: Debt-Laden -- And Facing Slower Exports
South Korea's economy, already hobbled by enormous household debt, faces more hurdles in the coming year. Exports, which have been carrying the economy recently, are slowing, putting the Bank of Korea in a dilemma: It is cutting interest rates, already at a record low, even as energy-driven inflation is accelerating.
Based on growth from a year ago, the 5.5% advance in second-quarter real gross domestic product, powered by a 27.2% gain in exports, seems respectable. But looking closer, both exports and the overall economy slowed from the first quarter, and consumer spending continued to contract.
Household spending is unlikely to pick up strongly. After a borrowing spree, some 10% of Koreans age 15 and older are at least three months delinquent in their debt repayments. Government efforts to help consumers have shown little impact, and inflation, which hit 4.4% in July, is sapping purchasing power. Also, labor markets look weaker as unemployment climbs, especially among less educated, lower-income workers, on whom the repayment burden is heaviest.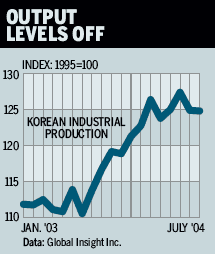 Now, exports are slowing. Korea is highly dependent on China's markets, which are cooling as Beijing tries to curb growth. And higher oil prices are sapping global growth generally. In addition, export gains aren't feeding back to domestic demand or jobs as strongly as they once did, because Korean investment is increasingly flowing to China. After Hong Kong, Korea is now the mainland's second-largest investor.
Amid fears of new weakness, the BOK unexpectedly reduced its policy rate to 3.5%, from 3.75%, on Aug. 12. Since then, industrial production was reported to have declined in July for the second month in a row, with losses in two crucial export sectors: semiconductors and autos. Chances for yet another rate cut are rising.
So are worries about stagflation. Real interest rates, adjusted for inflation, are already negative, and higher inflation is likely to fuel wages, as unions demand offsets. Low rates will help consumers by supporting housing, but they also could fuel speculative investment in real estate and generate a housing bubble.
By James C. Cooper & Kathleen Madigan
Before it's here, it's on the Bloomberg Terminal.
LEARN MORE