Margaret Sanger: Birth Control Of A Nation
She founded Planned Parenthood and was an early power behind the pill
As part of its anniversary celebration, BusinessWeek is presenting a series of weekly profiles of the greatest innovators of the past 75 years. Some made their mark in science or technology; others in management, finance, marketing, or government. In late September, 2004, BusinessWeek will publish a special commemorative issue on Innovation.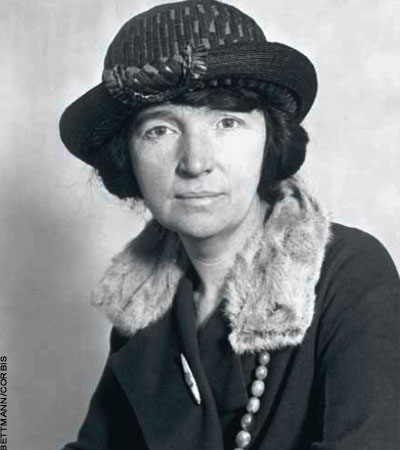 From the 1920s to the 1950s, thousands of despairing young mothers wrote letters to America's first birth-control champion, Margaret Sanger. They were women like Sadie Sachs, who had three kids and a trucker husband named Jake. When Sadie pleaded with her doctor to give her something, anything to prevent another baby, the physician quipped: "Tell Jake to sleep on the roof." After Sachs got pregnant again, she induced an abortion, only to die from the resulting septicemia.
This was an America where buying a single condom made you a criminal in 30 states; where priests told women who used black-market diaphragms that they would be haunted by the faces of their unborn children; and where some women like Sanger's devoutly Catholic mother, who got pregnant 18 times and had 11 children and 7 miscarriages, died an early death from the ravages of so many births. Born in Corning, N.Y., in 1879, Sanger was determined to forge a different fate for herself, scrounging the money to go to nursing school.
Furious at the fortunes of women like her mother, Sanger, who started her career as an obstetrical nurse on New York's Lower East Side, founded the Planned Parenthood Federation of America (her first attempt at opening a clinic in Brooklyn, in 1916, ended with a police raid). Her greatest achievement, though, was in spearheading the effort to create America's first nearly foolproof oral contraceptive. Sanger enlisted MIT-educated heiress Katharine D. McCormick, the philanthropist who went on to fund the scientific research team of biologist Gregory Pincus, physiologist M.C. Chang, and Harvard Medical School doctor John Rock -- though others also had a hand in the pill's development.
Some social historians claim that more than the atomic bomb, the airplane, or the Internet, it was this tiny pill that exerted a mythic transformation of 20th century society, redistributing power in the bedroom, the classroom, and the workplace. To women, it opened up the possibility that they could choose when, how, and if to have children, careers, or marriages. Indeed, the pill helped create a nation in which women now vastly outnumber men in college and graduate degrees; where one-third of wives outearn their husbands; and where 14 female Senators now craft public policy in Washington.
For all that Planned Parenthood and the pill achieved, though, Sanger has also been disparaged. Her interest in eugenics -- which aimed to cap breeding by "inferior" humans (nonwhites, the disabled, and the insane) -- inflamed critics, as did her support of the controversial 1950s pill trials in Puerto Rico, in which poor women were given dangerous, sometimes fatal doses.
When the pill was finally approved by the Food & Drug Administration in 1960, Sanger was a somewhat forgotten 80-year-old widow living in Tucson. She celebrated the news by uncorking a bottle of champagne and sipping it alone. In her remaining years, biographers claim Sanger grew increasingly embittered. After a life filled with political intrigue, jailings, two marriages, three children, and a slew of racy love affairs, including one with H.G. Wells, Sanger died in 1966. Twenty-five years later, nearly 80% of American women had tried the pill.
By Michelle Conlin
Before it's here, it's on the Bloomberg Terminal.
LEARN MORE