Scott Berrie, 38, considers himself a part of the Investor Class but is far more concerned about social justice and foreign policy than tax cuts and investment incentives. "The Ownership Society is a nice concept, but it's not as important as raising the welfare of the general population," says the CEO of Scojo Vision LLC, a New York eyeglass wholesaler.
Berrie and his wife have two young children, with a third on the way. They own a Manhattan co-op, municipal bonds, Treasury bills, investments in private equity companies, and a 401(k). And like most urban professional investors, they tilt Democratic. Berrie recites a litany of grievances about Bush, from foreign policy bravado to fiscal irresponsibility. "He's stubborn, inarticulate, and doesn't inspire me in the least," he says. "I don't think most Republicans are pawns of wealthy corporate interests, but I believe Bush is."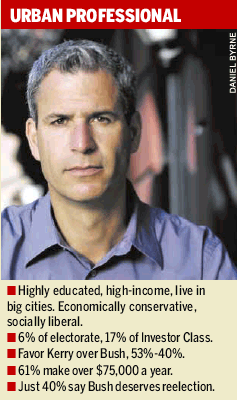 A particular sore subject is Bush's conservative social agenda. "Stem cell research is a big issue for me. My father died of complications as a result of diabetes," he explains. "I hate to see it hamstrung by the President's pandering to right-wing groups."
Berrie sees Bush-style unilateralism as a tax on U.S. business and a drain on the Treasury. Kerry, he believes, would repair relations with key trading partners. "I'm not a big fan of the EU or France," says Berrie. "Part of me says we don't need them, but the truth is we do. We live in a global economy. The President has to bring people together, not pull them apart."
Before it's here, it's on the Bloomberg Terminal.
LEARN MORE