U.S.: That Last-Quarter Slowdown Is Old News
Gas prices may have peaked in May -- and consumers are spending again
The most recent economic news makes it clear that the growth slowdown in the second quarter, highlighted by exceptionally weak consumer spending in June, was not a precursor of future weakness. Yes, the economy is easing back from its speedy 5% pace in the year that ended in the first quarter. But the second- quarter dip in growth far overstates the downshift.
Despite surging oil prices, a waffling stock market, and some surprisingly weak job numbers, the economy began the third quarter on much firmer ground. In particular, consumers are up and running again, although perhaps at more of a jog than a sprint. And businesses are moving ahead with new outlays for equipment.
In July, retail sales, industrial production, and housing starts all bounced back from their poor June showings, and manufacturers' new orders posted another advance. And in August, consumer sentiment is holding firm. Surveys show that builders are increasingly optimistic, and mortgage applications remain high. In addition, weekly jobless claims through mid-August remained low and, as in recent months, continue to indicate no new weakness in the job markets.
Most important, household spending this quarter is bouncing back. The Commerce Dept.'s tally of retailers showed sales rebounded in July, rising 0.7% from June. Plus, Commerce revised June sales higher. They now show a dip of only 0.5% from May, far less than the 1.1% decline originally reported.
For August, some retailers have noted soft back-to-school sales. But unlike Commerce's data, individual stores compare sales with those from the year before. Since sales in August, 2003, were boosted by $16 billion in tax-rebate checks, this year's numbers, by comparison, appear weak. Also, Wal-Mart Stores Inc. (WMT ) said Hurricane Charley dampened sales at 200 of its stores, 75 of which had to close for a time. But post-hurricane reconstruction should lift sales, especially for building supplies. So far, the data imply the average level for third-quarter outlays is off to a good start, which will provide growth with a solid foundation.
BETTER YET, TAMER INFLATION means that each dollar consumers spend will go toward purchasing more actual goods and services, not just covering higher prices. That's a switch from last quarter, when the energy-led spike in inflation meant the overall rise in prices accounted for 77% of last quarter's increase in the money households spent, the most in more than a decade.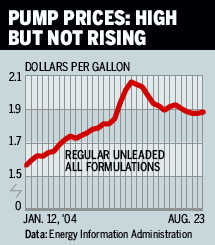 But in July, the consumer price index actually fell 0.1%. That mainly reflected a 4.2% drop in gasoline, although the moderation in price gains goes beyond energy. The core CPI, which excludes energy and food, rose a slim 0.1% in both June and July. In fact, over the past three months, the annual rate of core inflation has fallen to 1.6%, less than half the 3.3% rate in the three months before that. In the third quarter, slower overall inflation will allow the buying power of household incomes to stretch further than it did in the second quarter.
Of course, the soaring price of crude oil, which had been hovering in the $45 to $50 per barrel range for most of August, has become the biggest wild card in the outlook. But even here there's some room for optimism. Oil prices on Aug. 25 fell below $44 per barrel, nearly $6 below their recent peak. Also, gasoline prices in the spring rose far higher than the price of crude oil would have suggested. So despite higher crude prices since then, prices at the pump may not regain their May peak.
BACK IN MAY AND JUNE, the average retail price for unleaded gasoline jumped to well over $2 per gallon at a time when crude oil was selling at about $38 to $40 per barrel. But based on the historical relationship between the quarterly averages of oil and gas prices from 1985 to 2003, pump prices have typically been about $1.75 or less when oil prices traded in that range.
In the second quarter, gasoline averaged $1.96, which has been consistent in the past with crude oil prices averaging more than $45 per barrel. With oil in August already running close to that level, and with gasoline prices at $1.88 for the week ended Aug. 23, pump prices in coming months may rise, but chances are good that the increase will be limited.
Other factors support that outlook. Gasoline markets have turned around sharply since May, when prices peaked at $2.06 per gallon, and inventories were very low. That combination sparked fears of even higher pump prices during the summer. Instead, oil refiners, rushing to cash in on higher prices, boosted gas production, and gasoline imports in July were up 13% from previous-year levels. As a result, gasoline inventories have been rebuilt, and prices have declined just as the summer driving season is winding down.
The next potential problem for household energy costs may not come until winter. According to the Energy Information Administration, refiners continued to maximize gas production in July, beyond the period when they would normally shift output to greater production of heating oil. That pattern could put pressure on heating oil inventories this winter.
The price of No. 2 heating oil is already up 38% from a year ago, and households are locking in their fuel contracts for the coming year. Still, fuel prices during the heating season will be determined mainly by the severity of the winter and the path of crude-oil prices in coming months, both of which are anybody's guess.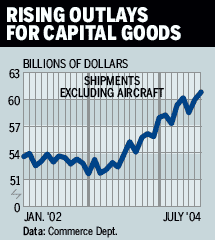 FOR NOW, AT LEAST, the firmer tone of consumer spending is buoying overall output, while businesses continue to spend greater sums on equipment. New orders for capital equipment, excluding aircraft, rose 0.6% in July, following a 1.4% gain in June. Shipments are in a strong uptrend, even as the backlog of unfilled orders continues to grow.
Demand, especially from businesses, is driving gains in industrial production. After falling 0.5% in June, output in factories, utilities, and mines rebounded 0.4% in July. That gain was curbed by a drop in utility output, the result of unusually cool weather, and auto plant shutdowns for new-model changeover. Manufacturing output alone increased a healthy 0.6%. Excluding the drop in autos, factory production rose 0.7%.
So far this year, output in manufacturing is growing at a 5.6% annual rate, more than double the 2.5% clip for all of 2003. Tech equipment makers are supplying a major thrust, reflecting companies' ongoing efforts to boost productivity. Although computer orders weakened in July, production of high-tech equipment so far this year has grown at a 31.5% annual rate.
With industrial output and consumer spending recovering from their June swoons, chances for a rebound in job growth are improving. As important as oil and energy costs are for the outlook in coming months, the future pattern of job gains is even more crucial. Only if employment growth returns to a healthy pace will there be any assurance that the economy can weather surprises from the energy markets this winter.
By James C. Cooper & Kathleen Madigan
Before it's here, it's on the Bloomberg Terminal.
LEARN MORE