Pat Consolmagno, 82, is grateful that she and her husband, Joe, have a host of investments and an Englewood (Fla.) home that has more than tripled in value in 25 years. But even with an income of nearly $80,000 a year from mutual funds, stocks, savings account interest, Joe's DaimlerChrysler (DCX ) pension, and Social Security, they feel the pinch of rising costs for groceries, gasoline, prescription drugs, and local taxes. "I buy what's necessary, not beyond that," the former home economics teacher says.
Consolmagno is particularly pleased about the tax cuts and dividend tax relief delivered by President Bush and the Republican Congress. "Kerry claims the [Bush] tax cut only helped the rich, but we're not rich and it helped us tremendously," the grandmother of three says.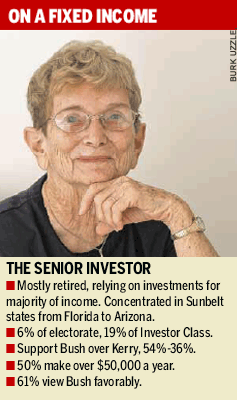 Consolmagno is a strong Republican, like the majority of elderly investors (49%-33%), and a big fan of Bush. Seniors without stock portfolios are much more dependent on Social Security and lean heavily Democratic (47%-34%). No other demographic group has as big a political gap between investors and non-investors as the over-65 crowd.
But some GOP initiatives designed to appeal to AARP voters -- like partial privatization of Social Security -- leave Consolmagno uneasy. "Don't mess with Social Security," she says. "I can't see it secure when you want to let people invest in their own accounts." And she adds: "I also don't want to control my own Medicare account. [The current system] works fine."
Before it's here, it's on the Bloomberg Terminal.
LEARN MORE