Peter S. Blasi came face to face with the realities of the Ownership Society 14 months ago with the birth of his daughter, Marie. Blasi, 30, an insurance lawyer, and his wife, Tami, a pediatric oncology nurse, had recently bought a home in Oakville, Mo., outside of St. Louis. That burden and Marie's arrival forced them to think about saving for their daughter's education and their own far-off retirements. "Maxing out on my 401(k) is critical, because, if I don't, I don't know where the money is going to come from," Blasi says.
With their 401(k)s, bonds, and CDs, the Blasis have joined the largest group of investors: married parents with children at home. Primarily suburbanites, they comprise nearly one-third of investors and 10% of voters. Politically, they tilt heavily Republican, and the GOP is hoping they will become the core of a future majority coalition.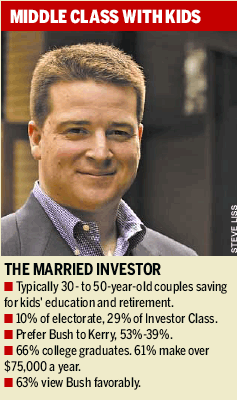 Blasi strongly endorses the President's Ownership Society emphasis. "Changing the federal government's role from bureaucratic Big Brother to allowing citizens to make personal choices with their money and investments is what middle-class families are now demanding," he says.
"Democrats villainize business for political gain," Blasi complains. Blasi, an Independent, is open to supporting the right kind of Dem, but says that unless the party drops its populist rhetoric, it's unlikely that it will get his vote or those of too many other pops with stocks.
Before it's here, it's on the Bloomberg Terminal.
LEARN MORE