Germany: What If The Export Engine Stalls?
The latest news on Germany's economy shows the recovery remains dependent on exports and not enough on domestic spending. But if oil prices remain high, it may be hard to fix that imbalance anytime soon.
Deutsche Bundesbank data on second-quarter real gross domestic product showed that the economy grew 0.5% from the first quarter, confirming earlier estimates. Business investment in equipment and structures fell, while consumer spending rose only 0.1%. The big boost came from exports, the same source of most growth over the past year.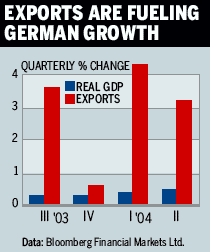 But given the global slowdown, Germany cannot depend on foreign demand to keep its factories busy. Mostly because of higher oil prices, economists have cut their forecasts for world growth. According to the consensus view of private economists, Germany is set to grow by 1.6% in 2004, below the 1.8% gain projected for the total euro zone.
The export dependency also is not helping Germany's deficit. Since exporters don't pay sales taxes, their sales increases aren't improving government revenue tallies. As a result, Federal Statistical Office data show the budget deficit in 2004 is growing faster than it did in 2003, when the gap hit 3.9% of GDP.
Reviving domestic demand, however, may prove difficult. First, high oil prices are eating into household budgets. The yearly inflation rate accelerated to 2% in August. Second, hiring has slowed, causing the jobless rate to remain high. Consumer confidence has flattened out at a low level. Plus, hourly compensation last quarter was unchanged from previous-year levels.
The outlook for incomes is dim. In July, carmaker DaimlerChrysler (DCX ) reached an agreement with union IG Metall to limit yearly raises to 1.5%. Now Volkswagen is seeking to freeze the wages of its workforce when it begins union negotiations in September.
The aim is to bring down labor costs while boosting productivity. That will bring needed improvement to the global competitiveness of German companies. The danger is that consumers, burdened with high energy costs and stagnant income, will not generate much internal momentum for the economy.
By James C. Cooper & Kathleen Madigan
Before it's here, it's on the Bloomberg Terminal.
LEARN MORE