Janet Zeestraten is not your stereotypical investor. She doesn't have a stock portfolio, T-bills, or bonds, and she has just a high school diploma. But the 50-year-old United Auto Worker from Hugo, Minn., has her own slice of the Ownership Society pie: a rapidly appreciating two-bedroom house 34 miles north of St. Paul and a vacation cabin in Sturgeon Lake. She also has a company-run 401(k) through her job as a final assembly inspector at Ford Motor Co.'s (F ) Twin Cities Assembly Plant.
Although she's not an active investor, Zeestraten is favorably disposed to Administration proposals to give her greater choice in medical care and retirement savings. "I like the idea of me having more control over everything," she says. Zeestraten, a mother of five grown children who works the 5 p.m.-to-3:30 a.m. shift with her husband, also is receptive to Republican calls for tax cuts.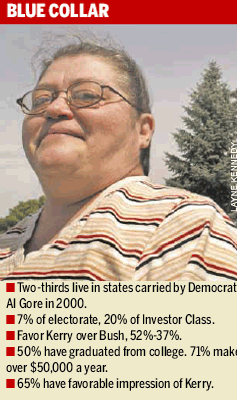 But while she's never met a tax cut she dislikes, she's suspicious of GOP motives. "Republicans always take from the poor and give to the rich," she asserts. She also worries about softness in the economy. "When the economy is strong, we work 50 hours a week plus Saturdays," says Zeestraten, a union member for 21 years. "I haven't worked that much since the late 1990s."
Kerry, however, hasn't won her over yet. "I don't like the man," she says. "I think his wife's money goes to his head. I don't like what Bush has done, but I don't know if Kerry would do any better."
Before it's here, it's on the Bloomberg Terminal.
LEARN MORE