U.S.: Those Soft Job Numbers: Cause For Alarm?
Probably not -- business is still spending, and not all the data are so gloomy
The release of the July employment numbers was déjà vu all over again. Just as with the disappointing June jobs data, the Aug. 6 report, which showed only 32,000 jobs created in July, caused investors, economists, and policymakers to do a double take. The July report was expected to show a jump of 250,000. Some analysts predicted a surge above 300,000. A hefty payroll gain would support the idea that the economy is regaining speed after a spring slowdown. It would also renew optimism on Wall Street and justify continued interest-rate hikes by the Federal Reserve.
Instead, economists are marking down their second-half forecasts. Investors are wary about the profits outlook. The Dow Jones industrial average fell a steep 148 points after the release of the jobs report and remains below 10,000.
For its part, the Fed seemed to downplay the jobs data. As expected, the Fed lifted the federal funds rate by a quarter-point, to 1.5%, at its Aug. 10 policy meeting. The accompanying statement acknowledged that output and improvements in the labor markets have slowed. But it put the blame largely on higher energy prices. As long as oil's upward push on inflation is transitory, the Fed said the economy "appears poised to resume a stronger pace of expansion going forward."
Policymakers reiterated that they could continue to remove policy accommodation at a "measured" pace. But just as in its June 30 statement, the Fed warned it would respond "to changes in economic prospects as needed to fulfill its obligation to maintain price stability."
Analysts interpreted the statement to mean the Fed will move the funds rate up another quarter-point at its Sept. 21 meeting. Odds for that move will lessen, however, if the August employment report proves as disappointing as July's.
BUT SHOULD THE WEAK JOBS REPORT have been such a shock? After all, the economy slowed in the second quarter, growing at just a 3% annual rate. That low rate suggested companies may have gotten ahead of themselves when they went on a hiring spree from March through May. In addition, continued turmoil in Iraq, the sluggish stock market, and uncertainty about the Presidential election seem to have caused a run of corporate paralysis. In addition, questions about the future of oil prices and supplies are also weighing on the outlook.
Bear in mind that corporate caution held back the recovery in 2002 and early 2003. Buffeted by accounting scandals and war talk, executives at that time delayed investing in new equipment or adding workers and let inventories shrink dramatically.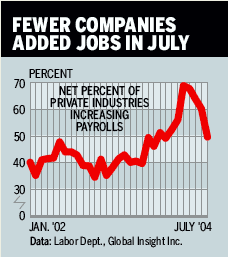 That probably won't happen again. First, businesses are optimistic about the second half. Second, the revised GDP data show business-equipment spending has risen for five quarters in a row. And in the first half, inventories grew at the fastest two-quarter pace since 2000.
But once again, companies have reacted to a mild -- and, in the Fed's view, probably short-lived -- slowing in demand by curtailing hiring. Although still small, the risk to the outlook is that corporate inaction could drag down total demand, especially if another oil-related shock occurs. If so, personal incomes won't rise fast enough to offset higher fuel prices. That will force consumers to cut back on other purchases. Pay is already being squeezed: In July, hourly pay rose 1.9% from a year ago, below the latest yearly inflation of 3.3%. Renewed job jitters might also slow second-half buying plans.
CORPORATIONS' LATEST RELUCTANCE to hire can be seen in the Labor Dept.'s employment data. Job gains in June and July slowed to a 55,000 average monthly pace, a steep drop from the 225,000 average in the first five months. Moreover, the breadth of hiring has narrowed. In March, 68.7% of private industries added workers. By July the rate was less than 50%. The average workweek, at 33.7 hours, was shorter than its May length of 33.8 hours.
Job losses were greatest in areas where demand has weakened. For example, retailing, where spring sales were soft, cut 19,100 jobs in July. Meanwhile, mortgage refinancing activity is down and credit intermediation positions, which include mortgage brokers, fell by 15,800.
However, some bright spots were evident in the jobs report. The unemployment rate slipped to 5.5% from 5.6%. Manufacturing added 10,000 new jobs; the gain would have been much higher if not for losses in the transportation-equipment sector. Presumably that reflects temporary layoffs as auto makers closed down for annual model changeovers. If so, transportation equipment should show a healthy rebound in August.
In addition, health care continued to add workers. Professional service jobs rose by a large 42,000, and restaurants and bars added 7,800 to their staffs.
SO FAR IN 2004, nonfarm job growth has averaged a healthy 176,000 per month. Against that trend, the July job gain would normally not be cause for alarm. But this is not a normal year. In the current Presidential campaign, the economy in general -- and job growth in particular -- is a major issue. Each side will dissect the data to prove its point right up until Nov.2.
What the campaigns largely ignore is that the labor markets have evolved as U.S. businesses have had to adapt to a more global, more competitive economic environment over the past decade. Cost-cutting remains uppermost in most executives' minds. That's why businesses still look to productivity rather than to labor for increased output. Output per hour worked in the nonfarm business sector grew at an annual rate of 2.9% in the second quarter, accounting for nearly all of the growth in output.
But the productivity gain wasn't enough to offset the 4.9% rise in compensation. That meant unit labor costs rose 1.9%, the fastest increase in two years. Renewed cost pressures fly in the face of Corporate America's attempt to compete against global rivals while also keeping stock prices rising. No wonder companies tried not to hire much in July.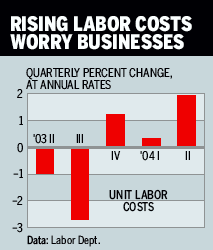 To a large extent, it's not wage pressures causing the reluctance to hire: Gains in hourly wages and salaries have slowed significantly over the past four years. Benefits are the problem. Their costs jumped by 7.3% in the year ended in the second quarter, the largest increase in two decades.
The money companies are saving on payrolls will go toward equipment that will keep productivity rising. That increased spending is why the economy should keep posting good growth in the second half even if payroll gains may not be as impressive. And the productivity increases reaped from the machinery should reduce the pressures on profit margins coming from higher energy and labor costs.
The upshot is that labor markets are now as flexible as an Olympic gymnast -- and businesses want them to stay that way. Any President will find it extremely difficult to change that situation.
By James C. Cooper & Kathleen Madigan
Before it's here, it's on the Bloomberg Terminal.
LEARN MORE