PSS Is Really Delivering The Goods
By Gene G. Marcial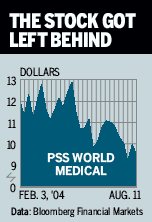 When David Smith took the CEO job at PSS World Medical (PSSI ) in 2000, sales at PSS -- a distributor of medical supplies to doctors' offices and nursing homes -- stood at $160 million. They've since rocketed to $1.35 billion. No wonder giants McKesson (MCK ), a distributor to hospitals and pharmacies, and Cardinal Health (CAH ), a distributor and producer of health-care products, are eyeballing PSS, say some pros: They hope Smith will sell. McKesson's sales are a hefty $70 billion and Cardinal's $56 billion. Smith doesn't deny he has had informal offers, but he wants to build up the stock's worth to more than analysts' 12-month target of 16. "Given the fast growth of PSS, it would not be right to take less than 20," says Smith. Why do McKesson and Cardinal care about PSS? It's the No. 1 distributor to both the elder-care market and the physicians' market. (McKesson is No. 2 in both.) The doctors' business brings in 60% of PSS's sales, and the elder-care market some 40%. Eric Coldwell of securities firm Robert W. Baird puts earnings at 53 cents in fiscal year 2005 ending Mar. 31, vs. 2004's 42 cents. For fiscal 2006, he sees 70 cents. The stock, now at 9.43, "remains one of our top picks," he says. McKesson and Cardinal didn't return calls for comment.
Note: Unless otherwise noted, neither the sources cited in Inside Wall Street nor their firms hold positions in the stocks under discussion. Similarly, they have no investment banking or other financial relationships with them.
Corrections and Clarifications In ``PSS is really delivering the goods'' (Inside Wall Street, Aug. 23-30), the $160 million sales figure cited was actually sales in 1994, when PSS World Medical went public.
See Gene on Fridays at 1:20 p.m. EST on CNNfn's The Money Gang.
Before it's here, it's on the Bloomberg Terminal.
LEARN MORE