Brazil: Lula's Unlucky Streak Is Lifting
The tide may finally be turning for Brazilian President Luiz Inácio Lula da Silva. After a year and a half of rising unemployment, falling consumption, and increasingly unhappy voters, Lula is finally presiding over an economy that is on the path to a sustained recovery.
The country began to turn around in the middle of last year, but voters were fixated on the 0.2% contraction for all of 2003 -- far short of the "spectacle of growth" that Lula promised during his 2002 campaign. In the first quarter of 2004, real gross domestic product rose at a quarterly rate of 1.6%. That has the economy well on its way to beat the government target of 3.5% growth for all of 2004. Exports are booming due to a weaker currency, high prices for commodities such as soybeans and steel, and productivity gains.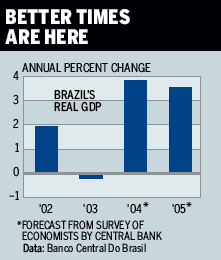 The key to faster growth will be domestic demand. Consumers are finally spending now that the labor and financial markets are improving. The jobless rate, which peaked at 13.1% in April, fell to 11.7% in June. Wages are also picking up, with a jump of 1.8% in June. And although the central bank's base interest rate stands at a lofty 16%, it has fallen a long way from 26.5% at the start of 2003. What's more, the interest spreads -- the difference between borrowing and saving rates -- are also easing. As a result, sales of big-ticket items, among the first sectors to benefit from lower rates, are rising, with food and clothing sales in tow.
Voters are finally noticing. A national opinion poll published on Aug. 10 showed the government's approval rating bounced up a healthy 9 percentage points, from 29% in June to 38% in August. That was its first gain after a string of declines. Lula's personal rating also improved, from a low point of 54%, to 58%.
Even so, Lula is not out of the woods. Accusations of tax evasion caused the resignation of a senior central bank official last month. The presidents of the central bank and the public sector Banco do Brasil face similar allegations. The opposition will exploit the government's problems in the runup to important municipal elections in October. The good news for Lula is that what really matters to voters is the economy.
By Jonathan Wheatley in São Paulo
Before it's here, it's on the Bloomberg Terminal.
LEARN MORE