U.S.: Corporate America Picks Up The Baton
Business investment is stepping up as consumer spending slows
The Commerce Dept.'s report on second-quarter real gross domestic product contained one glaring number: Consumer spending grew at a paltry annual rate of 1%. Not in three years -- during the last recession -- have households posted such a weak performance. As a result, worries about the economy in the second half would seem natural. After all, consumer spending makes up 70% of GDP, and households have been the economy's growth leader in recent years.
But this business cycle has reached a milestone that should ease some concerns about the second half. The second-quarter GDP report was a clear sign that consumers no longer have to run as hard as they have in the past for the economy to keep moving forward at a healthy pace. Indeed, businesses, spurred on by the growing conviction that the recovery is now on solid ground, are taking the baton from households.
The more interesting feature of last quarter's GDP report was that the economy still managed to grow 3% despite the sharp consumer slowdown. Indeed, consumer spending contributed only 0.7 percentage point of the quarter's overall growth rate. Growth of 3% in one quarter is a good showing by any standard, even compared with the high-productivity period of the past decade, when real GDP growth averaged 3.3%.
Look at the data. Last quarter, business spending on equipment grew at a 10% annual rate. Construction outlays for new offices and warehouses rose 5.1%, continuing a turnaround from one of the worst collapses on record. Exports soared 13.2%. Plus, businesses are adding to their inventories at a faster rate than they did last year, with plenty of room for further growth. With help like that, consumer spending doesn't have to grow 4.2% per quarter, as it averaged during the year prior to last quarter, for the economy to perform well.
ONE OF THE BEST SIGNS of the business sector's momentum is the continuing high level of activity, especially in the U.S. industrial sector. The Institute for Supply Management's index of manufacturing activity -- a composite of orders, production, employment, inventories, and delivery times -- rose to 62% in July, from 61.1% in June. A reading above 50% shows that business is growing. The gauge has been above 60% for nine months in a row, hovering at levels not seen since the boom in the early 1980s. The ISM also reported a big jump in nonmanufacturing activity in July.
In fact, according to the ISM, the recent level of its industrial index is usually associated with much faster economic growth. The ISM says that, based on past relationships, the 62.2% average for the index so far this year has typically corresponded to 7.1% growth in real GDP. The unflagging strength in the ISM's indicator in recent months suggests two things: One, that businesses do not see any fundamental downshift in consumer demand. And two, that overall growth will most likely speed up again in the second half.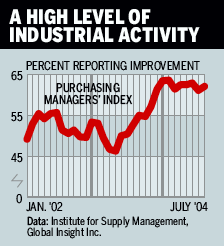 A growing backlog of unfilled orders and skimpy levels of inventories are two key reasons. Commerce Dept. data show that in June the order backlog for manufacturers, excluding big aircraft orders, grew 14.1% from the year before, a pace that exceeds the peak growth rate during the late-'90s boom. That means plenty of second-half production is already in the pipeline.
Moreover, the ISM noted that respondents to its July survey said that "their customers do not have sufficient inventories on hand at this time." The GDP report showed that businesses increased their inventories by $47.5 billion, after boosting them by $40 billion in the first quarter. That's a faster rate of accumulation than last year, but at the current rate of growth in demand, a much faster pace is needed to keep up. That will be another source of new production in coming months.
NO WONDER BUSINESSES continue to invest heavily in new equipment, especially high-tech gear and software, which increased at a 13.8% annual rate last quarter. Outlays for software grew more slowly last quarter, but purchases of new computers accelerated. And even given a dropoff in auto demand, overall business outlays for transportation equipment grew at a 10.1% rate.
One of the most encouraging signs for capital spending is that outlays for new construction are finally turning the corner. Such spending had plunged 28% from late 2000 to early 2003, but it has risen in three of the past five quarters and is no longer a drag on overall business investment.
A gusher of cash flow is giving businesses the wherewithal to increase their capital outlays. BusinessWeek's tally of 900 companies shows a 41% gain in net income from continuing operations, excluding extraordinary items. Profits will not maintain that rapid yearly rate in coming quarters, but cash flow will nonetheless remain sufficiently plentiful to support a strong pace of capital spending.
SO WHY DID CONSUMER SPENDING swoon last quarter -- and is it something to worry about? The popular explanation is that outlays for costlier energy, mainly gasoline, displaced a lot of spending on discretionary items, such as cars or appliances. Clearly, that was a factor, given the 27% annual rate of increase in consumer energy prices in the first half.
But unless oil skyrockets to $50 or more per barrel, creating a whole new drain on purchasing power, most of the damage from $40 oil has already been done. True, hourly wages have slowed, but because more workers are now earning a wage, personal income growth has accelerated, rising at a 6.5% annual rate last quarter. At that pace, households will be able to recoup their lost buying power this quarter. And if oil prices come down, that would be an added boost.
Other factors, however, were at work on consumer spending last quarter, including some unusual quarterly gyrations. Spending on basic necessities, including food and clothing, were oddly weak last quarter, after unusually large gains in the first quarter. The true trend is somewhere in between, and the quarter's weakness in this key category will almost surely be reversed.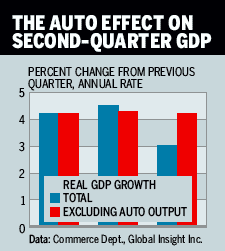 The softness in autos, where costlier energy may have postponed some car buying, makes more sense. Yet that weakness won't be repeated either. Sales of cars and trucks fell at an 11.5% annual rate last quarter, and motor vehicle output plunged 25.5%. By itself, auto output cut 1.2 percentage points from GDP. Minus autos, real GDP would have grown 4.2%.
But with a new round of sales incentives in place, car buying is rebounding. Auto companies reported that July sales jumped to a 17.3 million annual rate, up from June's 15.4 million pace. Moreover, second-half production schedules suggest that last quarter's dropoff in output won't be repeated this quarter.
Clearly, last quarter's 1% growth in consumer spending doesn't reflect the true trend. More important, even if consumers decide to ease back a bit from their spending spree of the past year, the economy has plenty of support from other sources to help keep it chugging along.
By James C. Cooper & Kathleen Madigan
Before it's here, it's on the Bloomberg Terminal.
LEARN MORE