Profits Loom For Æterna Zentaris
By Gene G. Marcial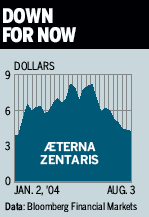 A little-known Canadian biopharma with the exotic name of Æterna Zentaris (AEZS ) has an array of cancer products that could push it to profitability after years of losses. Jeffrey Kraws, CEO of Crystal Research Associates, says Zentaris is generating promising new drugs. Two of them: Cetrotide, which is in clinical trials for use on uterine tumors and enlarged prostates and which is already being sold to aid in-vitro fertilization -- and Impavido, which is in trials for use on parasitic skin disease. It is already used in India for an infectious disease called Black Fever.
Mark Knapp of securities firm LOM in Toronto says one product in the pipeline, Perifosine, is in trials for breast, prostate, and head and neck cancers. Rating Zentaris a buy, he sees the stock, now at 4.15, reaching 12 in a year. David Martin of Dundee Securities in Toronto says Zentaris has already yielded operating earnings this year.
It's 62%-owned Atrium Biotechnologies unit makes cosmetics and nutritional products for Chanel, Aventis, and Nestlé, among others. Atrium should post sales of $137 million and operating earnings of $15 million in 2004, says Zentaris CFO Dennis Turpin. He figures Zentaris will post 2004 revenues of $168 million and operating earnings of $11.4 million.
Note: Unless otherwise noted, neither the sources cited in Inside Wall Street nor their firms hold positions in the stocks under discussion. Similarly, they have no investment banking or other financial relationships with them.
See Gene on Fridays at 1:20 p.m. EST on CNNfn's The Money Gang.
Before it's here, it's on the Bloomberg Terminal.
LEARN MORE