France: Consumers To The Rescue
France's consumers put the country near the top of the euro zone's growth table last quarter. But businesses seem wary of adding to their payrolls, despite growing demand. It stands to reason that both trends can't co-exist for very long.
In June, the ranks of the unemployed grew by 7,000, pushing the jobless rate to 9.9%. What's more, the employment index remains below the 50% level, indicating a decline in hiring. But the July factory purchasing managers' index showed scant signs of a reversal. The survey of manufacturers showed demand is healthy, and the level of unfilled orders is on the rise. Clearly, businesses are striving to meet demand by lifting productivity instead of adding workers.
Nevertheless, consumers are spending. Outlays for manufactured goods in June jumped 8.5% from the previous year, aided by seasonal summer discounts. But spending is also getting a lift from non-labor-market forces.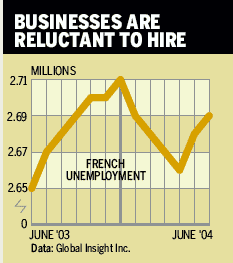 Eric Chaney, an economist at Morgan Stanley (MWD ), points to several factors. Unlike in Germany and Italy, France's housing market has taken off. June housing starts were up 10.2% from the year before, and home prices are rising. Consumers are taking advantage of low interest rates. Indeed, the European Central Bank's rate of 2% is below France's 2.7% inflation rate. The upshot is more spending on household goods, which in June climbed 23% from the previous year. Chaney also believes a slowdown in spending in response to price hikes associated with the 2002 rollout of the euro has ended.
In order to fund the uptick in spending, households are dipping into savings. That may not be a problem. As Chaney notes, the personal savings rate in France is 15% of aftertax income, leaving some allowance to draw down savings.
Finally, the economist argues that progress in pension and health-care reforms may be a positive factor. He notes that while the reforms are painful, they help shore up the system and, thus, long-term income expectations. All this means France's consumers may have the will and the way to keep spending until the labor market turns around.
By James Mehring in New York
Before it's here, it's on the Bloomberg Terminal.
LEARN MORE