Where Oil-Price Spikes Hurt -- and Help
Charting the relationship between industry stock prices and energy-price shocks shows many sectors being hurt, plus a few surprises
By Sam Stovall
It appears that oil prices are the swing factor between equity-market relief and retreat this year. But how influential have oil prices been in the past? I began my quest for this answer by remembering what a great mind once told me: "Start by drawing a chart."
So I plotted recent monthly per-barrel closing prices of the benchmark grade of West Texas Intermediate crude oil vs. the S&P 500, as seen below.
TEXAS TWO-STEP.
  At first glance, it appears that over long periods, oil and equity prices move together more frequently than they move apart. Advances for each are followed by declines, with neither appearing to act as a leading indicator. This chart didn't offer the answer I was looking for.
However, since my quest is to focus more on energy's impact on sector- and stock-price movements, maybe the answer lies in a comparison of monthly price changes of oil and industries in the S&P 500, which may show if there's a strong positive or negative correlation. Since the S&P GICS (Global Industry Classification Standard) was introduced just a few years back and only has history to 1989, this task required two steps: An analysis of non-GICS industries from 1974-2001, overlaid with an analysis of GICS history from 1989 to the present. I chose to display the best and worst five results from 1974-2001.
Correlations of Monthly Changes in Industry and Oil Prices
Jan 1974-Dec 2001
Best Five Correlations
Oil & Gas (Exploration & Production)
0.27
Oil (Domestic Integrated)
0.26
Oil (International Integrated)
0.21
Oil & Gas (Drilling & Equipment)
0.19
Natural Gas
0.15
Worst Five Correlations
Household Furnishings & Appliances
-0.22
Publishing
-0.22
Textiles (Apparel)
-0.23
Building Materials
-0.23
Homebuilding
-0.27
 
My first reaction was amazement: I had expected energy-related groups to show the highest correlations, but I was surprised to see how low those correlations actually were. If 1.0 and -1.0 indicate perfect positive and negative correlations, respectively, and 0.0 indicates non-correlation, results of 0.27 down to 0.15 for the top five industries were not that impressive. What's more, 83% of the non-GICS industries and 86% of the GICS industries posted negative correlations with oil prices. Oil-price movements may have hurt industry price performances more than they helped.
The industries with the lowest correlations seemed logical, based on their direct use of oil or petrochemicals (autos, home furnishings, and textiles) or their exposure to the inflationary implications and resultant direction of interest rates (building materials and homebuilding). But still, this analysis didn't seem adequate. Maybe one last approach was needed: Calculating industry-price performances during periods of oil-price shocks, as we're now experiencing.
The chart above shows the month-end price movements for oil from January, 1974, to the present, identifying the beginning and end of sharp price moves. I circled the beginning and ending periods of industry-price advances examined. (I chose not to include the period of rising oil prices from January, 1994, through January, 1997, since it occurred over a three-year period and hence was no shock.)
CAUSE AND NO EFFECT?
  The table below shows the number of periods in which an industry participated in the study (five was the maximum), the frequency of S&P 500 outperformance (F.O.) during oil-price shocks, the average percent change for all periods, and the individual results. Out of the 77 industries covered, we've listed the top outperformers -- those with a frequency of 80% or 100% -- and the worst underperformers, each of which had a 0% frequency. Within their F.O. categories, the industries are then sorted by average percent change.
% Changes During Oil-Price Shocks
 
 
 
 
12/98-
6/90-
11/88-
7/86-
12/78-
Industry
Count
F.O.
Avg.
11/00
10/90
4/89
7/87
2/81
S&P 500
5
NA
15
7
(15)
13
35
37
Highest F.O.
Oil & Gas (Drilling & Equipment)
5
100%
57
46
(3)
21
73
146
Oil (Domestic Integrated)
5
100%
47
24
0
19
68
124
Metals Mining
5
100%
40
13
(13)
24
74
102
Oil & Gas (Exploration & Production)
2
100%
26
52
0
--
--
--
Health Care (Hospital Management)
5
80%
62
73
(4)
25
18
200
Natural Gas
5
80%
40
66
(2)
14
31
91
Oil (International Integrated)
5
80%
31
20
1
9
62
63
Aluminum
5
80%
29
34
(12)
10
67
47
Electronics (Semiconductors)
5
80%
29
36
(34)
16
62
66
Health Care (Drugs - Major Pharmaceuticals)
5
80%
18
9
(3)
17
36
31
Lowest F.O.
 
 
 
 
 
 
 
Paper & Forest Products
5
0%
8
(6)
(20)
9
30
28
Computers (Hardware)
5
0%
2
6
(21)
(3)
32
(5)
Retail (Food Chains)
5
0%
0
(26)
(17)
13
30
0
Truckers
5
0%
(3)
(33)
(20)
(6)
13
33
Lodging-Hotels
5
0%
(3)
(33)
(55)
13
26
33
Banks (Major Regionals)
5
0%
(4)
(5)
(37)
6
0
15
Insurance (Life & Health)
5
0%
(4)
(11)
(26)
9
(7)
13
Services (Commercial & Consumer)
4
0%
(7)
(45)
(23)
4
35
--
Auto Parts & Equipment
5
0%
(9)
(45)
(29)
5
24
(1)
Household Furnishings & Appliances
5
0%
(10)
(42)
(34)
8
11
8
Office Products & Supplies
4
0%
(11)
(56)
(31)
13
32
--
By Sam Stovall So what should an investor take away from this analysis? Two things: First, that some industries, such as gas and oil, tend to show strong price performances as oil prices take the market by surprise, as do the inflation-hedge hard assets like metals. Second, as a result of noticing that hospital management and semiconductor stocks were among the strongest performers -- even though they're little affected by oil prices -- investors should remember that just because there's correlation doesn't mean that cause and effect are at play. Finally, as always, we urge investors to use history as a guide and not gospel, since there's no guarantee that what worked in the past will succeed in the future.
CAUTION, AS ALWAYS..
  S&P's Sector Committee currently has an overweight recommendation on the energy sector. Yet "being overweight" is not synonymous with "going overboard." The S&P 1500 Energy Sector index now represents 7% of the S&P 1500. We believe a weighting of a few percentage points above a market-weighting is appropriate for the near term (the exact amount depends on the individual investor), but be careful not to be excessive for several reasons.
First, the relative strength chart below, which compares the rolling 12-month price appreciation for the energy sector with the S&P Composite 1500, shows a very steep upward trajectory. Indeed during the past 12 months, the S&P Energy index has jumped 39.6% vs. the 11.7% advance for the broader market. Such sharp upward moves are frequently followed by quick declines. In rapid fashion, energy share prices may fall victim to a very slippery slope.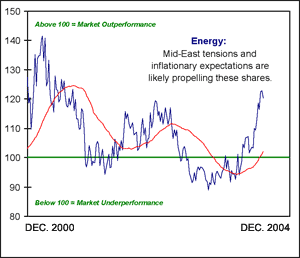 Second, we believe that after several quarters of strong earnings growth, the appreciation rate in future quarters is likely to slow. While the S&P 1500 Energy index posted a gain of 67% in operating earnings during 2003, it's projected to record an advance of 32% in 2004. Yet even though the group is not expected to lose money in 2005, earnings are expected to register a year-over-year decline of 10%. That's because of more challenging comparisons as well as oil prices' eventual decline to what we believe is the true market price of $38 per barrel.
Industry Momentum List Update
For regular readers of the Sector Watch column, here is this week's list of the industries in the S&P 1500 with Relative Strength Rankings of "5" (price performances in the past 12 months that were among the top 10% of the industries in the S&P 1500) and their proxies (the highest STARS-ranked companies in the subindustry index; tie goes to the largest market value) as of July 30, 2004:
Industries
Company
Ticker
STARS
Price
Consumer Electronics
Harman International
HAR
5
$80
Diversified Metals & Mining
Peabody Energy
BTU
4
$51
Fertilizers & Agricultural Chemicals
Scott's Co.
SMG
4
$58
Homebuilding
Pulte Homes
PHM
3
$57
Internet Retail
eBay
EBAY
5
$74
Internet Software & Services
Yahoo!
YHOO
3
$26
Office Electronics
Xerox
XRX
3
$14
Oil & Gas Exploration & Production
Apache
APA
5
$43
Oil & Gas Refining & Marketing & Transportation
Premcor
PCO
5
$33
Steel
Nucor
NUE
3
$78
Tires & Rubber
Cooper Tire
CTB
3
$22
Wireless Telecommunication Services
Nextel Partners
NXTP
5
$14
 
* S&P's stock appreciation ranking system for the coming 6- to 12-month period: 5 STARS (buy), 4 STARS (accumulate), 3 STARS (hold), 2 STARS (avoid), 1 STAR (sell).
Required Disclosures:
All of the views expressed in this research report accurately reflect the research analysts' personal views regarding any and all of the subject securities or issuers. No part of the analysts' compensation was, is, or will be, directly or indirectly, related to the specific recommendations or views expressed in this research report.
For Required Disclosure information and Price Charts for all STARS ranked companies go to http://www.spsecurities.com, click on "Investment Research", and then click on "Required Disclosures & Standard & Poor's STARS vs. Closing Prices Charts".
Additional information furnished upon request to Standard & Poor's.
Disclaimer: This material is based upon information that Standard & Poor's considers to be reliable, but neither Standard & Poor's Investment Advisory Services LLC nor its affiliates warrant its completeness or accuracy, and it should not be relied upon as such. Assumptions, opinions and estimates constitute our judgment as of the date of this material and are subject to change without notice. Past performance is not indicative of future results.
This material is not intended as an offer or solicitation for the purchase or sale so any security or other financial instrument. Securities, financial instruments or strategies mentioned herein may not be suitable for all investors. This material does not take into account your particular investment objectives, financial situations or needs and is not intended as a recommendation of particular securities, financial instruments or strategies to you. Before acting on any recommendation in this material, you should consider whether it is suitable for your particular circumstances and, if necessary, seek professional advice.
Stovall is chief investment strategist for Standard & Poor's
Before it's here, it's on the Bloomberg Terminal.
LEARN MORE