U.S.: After A June Snooze, Consumers Will Wake Up
Higher energy prices cut into spending, but fatter paychecks should fix that
Consumer spending has been the economy's main engine in recent years. Through recession and jobless recovery, households contributed more than their share of gross domestic product to total economic growth. Then, quite suddenly last quarter, consumers posted one of their weakest performances in more than year, accentuated by a sharp pullback in June. Was it just a pothole, or have households encountered a roadblock?
The weight of the evidence so far strongly argues that consumer spending will speed up again in coming months. Confidence is high. Businesses are hiring. Household income is growing. Interest rates remain low, with mortgage rates actually down in recent weeks. So home sales are strong. And the energy-led inflation surge in the first half will likely be transitory. Even Federal Reserve Chairman Alan Greenspan believes the softness in consumer spending "should prove short-lived," as he told Congress recently.
To be sure, jobs are the key to the consumer outlook. Job growth will have to continue to average about 200,000 workers per month, as it did in the first half. Hiring at that rate will generate the income needed to offset the fading stimulus from past tax cuts and last year's infusion of refinancing money. The good news is that the available labor market indicators for July suggest no slowdown from the first half's solid pace.
Even better, consumers will not have to contribute as much to growth in coming quarters as they have in previous years for the economy to perform well. Other engines are revving up, including capital spending, inventory building, and exports. This rotation from a consumer-led recovery to growth that is fueled by an increasingly confident business sector is a classic business cycle pattern that will keep the economy motoring along at a healthy pace.
ONE SIGN THAT CONSUMERS are already shaking off their spring doldrums comes from the Conference Board's consumer confidence index, which jumped in July for the second consecutive month. The index hit 106.1, the highest level in just over two years. Households' ratings of present conditions remained about the same as in June, but their expectations for the future rose sharply, despite high gas prices and the disappointing June employment report released in early July.
In fact, consumers voiced increased optimism about the job market. The percentage of households who rated jobs as plentiful rose to 19.8%, a two-year high. Although the percentage is well below its prerecession levels, the improved confidence in the job outlook agrees with other positive July data, including jobless claims and various business surveys of hiring activity. Moreover, it runs counter to the June job report that showed only 112,000 new hires, suggesting that softness was a data fluke.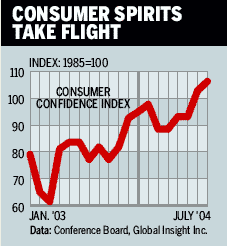 Consumer optimism in the job outlook goes hand in hand with increased business confidence. Earlier this month, the Conference Board reported that business confidence readings among chief executives in the first and second quarters were at their highest levels since before the recession. A second-quarter survey by PricewaterhouseCoopers shows executives in the factory sector are increasingly upbeat about prospects for revenues, capital spending, and hiring in the coming year. The PwC survey noted that the views of manufacturers had been trailing those in business generally, but that last quarter manufacturers turned "markedly more upbeat," matching the overall outlook of all large businesses.
WITH MORE COMPANIES now looking to hire, workers are seeing their pay rise at a rapid clip. Through May of this year, income from wages and salaries is growing at an annual rate of 7.2%, twice the 3.6% rate for all of 2003 before job growth took off. Owners of small proprietorships are also raking it in. Proprietors' incomes are growing at a 14.6% annual rate, up from last year's 8.6% pace. Taken together, those two categories make up almost two-thirds of household income. Even as aftertax income slows, as the effects of the tax cuts wear off, new jobs are generating before-tax pay at an accelerated pace.
More importantly, the gains in pay in the second half are not likely to be eroded by accelerating inflation. Bear in mind that the chief problem for consumers in the second quarter was the growing burden of higher energy costs that ate into buying power. From the end of 2003 through May, households shelled out an additional $47 billion for more expensive gasoline and other energy goods. That category is less than 3% of all consumer outlays, but the increase accounted for 22% of the total rise in consumer spending. Clearly, a lot of discretionary items went unbought, especially in low-to-middle-income households where necessities, like gas and heating oil, make up a larger share of monthly budgets.
By the end of July, though, the national average price of gas was down 16.5 cents per gallon, to $1.86, from its May peak of more than $2. In the second half, gas prices may well tick up again, especially with crude oil closing in on $43 per barrel on July 28. However, even if fuel prices match their high second-quarter levels, the contribution to overall inflation will be zero.
TAME INFLATION in the second half will also be a crucial determinant of interest rates. Rising rates will most likely dampen demand in the coming year, but if the Fed lifts them gradually, as seems possible, the adjustment will not be too painful. So far, despite the Fed's first rate hike -- and an expected second one at its Aug. 10 policy meeting -- interest-sensitive sectors, such as housing and autos, are holding up well.
With mortgage rates still around 6%, sales of existing homes soared to a record annual rate of 6.95 million in June, and June sales of new homes slipped only a tad, after surging 11.7% in May to a record 1.3 million.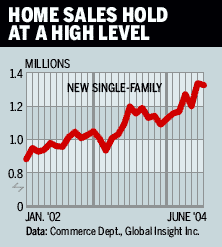 Meanwhile, auto demand has been whipsawed mostly by Detroit's incentive cycle. Financing deals pushed up sales of cars and light trucks in May to an annual rate of 17.8 million, but a lack of deals caused sales in June to slump to just 15.4 million. Now, early reports from car dealers say a new round of incentives in July is spurring a strong sales rebound. The June drop in car buying accounted for a big chunk of the quarter's overall spending slowdown. Stronger July sales will get third-quarter buying off to a strong start.
One wild card in the consumer outlook is the stock market, which can sway confidence, wealth, and spending. Most recently, investors seem dazed by all the uncertainty over the elections, possible terrorism, instability in Iraq, plus recent weak-looking economic reports. The economic questions, at least, should be answered favorably in coming months, as better-looking data, especially on consumers, come to the forefront.
Indeed, it seems odd that concerns about the consumer sector should crop up just when the most fundamental supports to outlays -- job growth and confidence -- are starting to strengthen. And as businesses look more favorably toward the future, new investment and hiring will help to assure self-sustaining economic growth.
By James C. Cooper & Kathleen Madigan
Before it's here, it's on the Bloomberg Terminal.
LEARN MORE