U.S. Labor Markets: The Truth About Worker Pay
Just how big is the squeeze on the pay of American workers? The answer is not as clear-cut as the polarized views of each political camp would lead you to believe.
Labor Dept. data say the average hourly wage for production workers rose 2.1% in the year ended in the second quarter, well behind the 2.8% rise in the consumer price index. As Senator John F. Kerry (D-Mass.) would point out, that means real wages shrank 0.7%, the first drop since 1995.
But that weakness is not a sign of long-term problems. The fall is due partly to the swing of the business cycle and partly to this year's energy-led surge in inflation. The labor market still has enough postrecession slack to keep wage growth soft. But with job gains this year averaging 211,000 per month, the jobless rate will continue to fall, and pay gains will firm up in the coming year. And as the Bush camp would argue, with payrolls now rising, income from wages and salaries for all workers is already up a healthy 5.1% from a year ago, well ahead of inflation.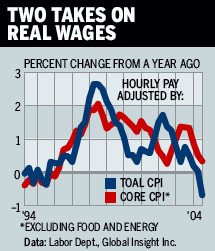 What really knocked the wind out of buying power was surging energy prices, causing the yearly pace of the CPI to nearly double from March to June. But the first half's 28% jump in energy prices won't be repeated in the second half. True, oil, at more than $40 per barrel, remains costly. But if it just stays at that level, energy's contribution to the growth in consumer prices will be negligible. If the price falls, so may inflation. Excluding the temporary swings in energy and food prices, core inflation is only 1.9%. By that measure, real wage gains have slowed but are still positive.
Most important, the long-run outlook for real wages is firmly upbeat for a reason that no politician can take credit for: the higher trend of productivity growth. That's the prime mover of real wages over the long haul. That's why, from 2000 to 2003, a period comprising a recession and a jobless recovery, real wages managed to grow at an annual rate of 0.7%. That's in stark contrast with previous recessions, when real wages fell sharply. With overall inflation set to slow, and with job markets tightening, higher productivity assures that real pay gains will pick up in the coming year.
By James C. Cooper & Kathleen Madigan
Before it's here, it's on the Bloomberg Terminal.
LEARN MORE