Radware May Gainsay The Naysayers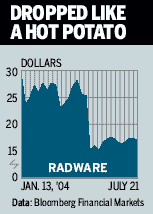 Radware (RDWR ) got a taste of the Street's venom in May when it issued disappointing sales and earnings forecasts for the second quarter. The stock dived from 28 in April to 14 on June 17. It has since edged up to 17, but for investors, it's "show me" time for Radware.
This Israeli company develops Internet traffic systems to improve clients' online productivity. The major culprit in the stock's fall is a 9% drop in U.S. sales, which account for 45% of the total. Radware was featured in this column on Oct. 20, 2003, when it was at 21. It hit 33 on Jan. 27, 2004. What's Radware's turnaround strategy? "We have stopped the bleeding by increasing our U.S. sales force and adding more engineers," says Chief Financial Officer Meir Moshe.
Most analysts have lowered their earnings estimates. Steve Kamman of CIBC World Markets (BCM ), who still sees the stock at 30 in 12 to 18 months, cut his second-quarter figure from 16 cents to 15 cents a share, and his 2004 number from 66 cents to 64 cents, on sales of $65.7 million, vs. an earlier $66.3 million forecast. But a source familiar with Radware's operations is "almost sure" it will beat its own and analysts' estimates for the third quarter and for all of 2004. Radware will report its earnings on July 26.
Note: Unless otherwise noted, neither the sources cited in Inside Wall Street nor their firms hold positions in the stocks under discussion. Similarly, they have no investment banking or other financial relationships with them.
By Gene G. Marcial
Before it's here, it's on the Bloomberg Terminal.
LEARN MORE