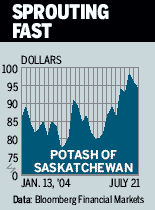 Something is stirring at fertilizer giant Potash of Saskatchewan (POT ): Analysts have raised forecasts for the second quarter -- and for 2004 and 2005 -- expecting robust sales. Potash shares soared from 76 in March to 94 on July 21.
As the world's No. 1 potash maker and No. 2 in nitrogen, "this company will reap huge gains from the limited supply and widening demand for these commodities," says Bill Harnisch, chairman of Forstmann-Leff Associates, which has a 2% stake. The dramatic drop in wheat and corn stockpiles has pushed grain prices higher. And with farmers making more money, outlays for nutrients are on the rise. That gives Potash new pricing flexibility, says Harnisch -- which enhances earnings. David Silver of J.P. Morgan (JPM ), who rates Potash (a client) "overweight," figures it will post second-quarter profits of $1.20 a share, up from the company's forecast of $1 and the first quarter's 94 cents.
For all of 2004, Silver sees $4 -- and $5 in 2005. But Harnisch sees much higher earnings: $1.30 in the second quarter, $4.75 for all of 2004, and $5.75 for 2005. "While the supply [of potash] worldwide is drying up, Potash still has large excess capacity," he says. Harnisch says this lopsided supply-and-demand picture will continue for several years. He expects Potash to hit 135 in a year.
Note: Unless otherwise noted, neither the sources cited in Inside Wall Street nor their firms hold positions in the stocks under discussion. Similarly, they have no investment banking or other financial relationships with them.
By Gene G. Marcial
Before it's here, it's on the Bloomberg Terminal.
LEARN MORE