As Gambling Grows, So Does Wells-Gardner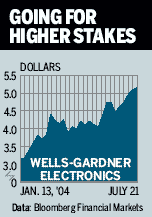 AMEX-listed Wells-Gardner Electronics (WGA ) has been around for 78 years, but Street analysts and institutional investors virtually ignore it. The stock jumped from 3 in January to 5.25 on July 21.
In the past, Wells-Gardner was best known for its screens for Pac-Man video games, but it now makes video displays for slot machines and other gambling devices. Of the world's 10 top makers of gambling devices, seven are Wells-Gardner customers, says CEO Anthony Spier. Legislation is pending, he notes, to make slot machines and video lottery terminals legal in Maryland, New York, Ohio, Pennsylvania, Rhode Island, Macao, and Mexico -- so Wells-Gardner's market should continue to expand.
Leo Rishty, editor of market letter Unique Situations in Weston, Fla., who owns shares, sees yearly profits of 25 cents a share on sales of $55 million this year, and 50 cents on $60 million for 2005. In the first quarter ended Mar. 31, Wells-Gardner posted a profit of 4 cents on sales of $12.7 million. For all of 2003, it lost 11 cents on $46.68 million. On July 20, Haystack Capital reported that it owned more than 5% of the company. Says Haystack's Douglas Topkis: "Earnings are just starting to come in, so we may buy more shares."
Note: Unless otherwise noted, neither the sources cited in Inside Wall Street nor their firms hold positions in the stocks under discussion. Similarly, they have no investment banking or other financial relationships with them.
By Gene G. Marcial
Before it's here, it's on the Bloomberg Terminal.
LEARN MORE