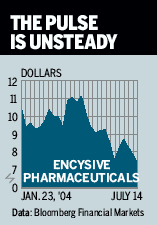 Buying into a company that bets heavily on a single new drug is dicey. But it's a risk worth taking in the case of Encysive Pharmaceuticals (ENCY ), says Mark Monane of brokerage Needham. Encysive is in the third and final phase of bringing to market a pill for pulmonary arterial hypertension. The disease forces the heart to work too hard to pump blood through constricted arteries into the lungs, causing shortness of breath and exhaustion. Untreated, it results in heart failure and death about four years from diagnosis. An estimated 50,000 people in the U.S. are afflicted.
The most effective current treatment is a drug called Flolan, which is pumped round the clock through a tube into the chest. The cost: $100,000 a year. Swiss company Actelion recently came to market with a twice-a-day pill, for which it charges $30,000 a year. Encysive's pill, Thelin, is swallowed once a day. In trials so far, Encysive says Thelin users were able to walk significantly farther in treadmill tests than untreated patients.
Monane, whose firm was an underwriter for Encysive, expects more data to come out by early next year and lift the stock from its recent 7.32 toward his 12-month target of 14. He says Encysive will be able to sell the drug for $25,000 a year, making its first profit in 2006. Deutsche Bank (DB ) analyst Jennifer Chao rates the stock a buy with a target of 16.
Gene Marcial will be back next week.
Note: Unless otherwise noted, neither the sources cited in Inside Wall Street nor their firms hold positions in the stocks under discussion. Similarly, they have no investment banking or other financial relationships with them.
By David Henry
Before it's here, it's on the Bloomberg Terminal.
LEARN MORE