Greece: A Gold-Medal Boost For Growth
The Greek economy has surged at an average yearly clip of 4.2% since 2000, when preparations for this summer's Olympics began in earnest. By Aug. 13, when the torch is carried into Athens' futuristic Olympic Stadium, up to $10 billion of Games-related spending will have been added to the $183 billion economy, one of the euro zone's smallest.
The extra cash has lifted real gross domestic product by at least 1% a year, economists reckon, enabling Greece to grow faster than the euro zone as a whole.
The good thing, says Lloyd Barton, a European economist at Pricewaterhouse-Coopers in London, is that the benefits could last long after the torch is extinguished. To be sure, the OECD projects growth will slow to 3.6% next year. That's partly because all the Games-related investment will end. But it's also because the government will have to cut spending to shrink the budget deficit -- which has been driven above the euro zone's mandated limit of 3% of gross domestic product by higher-than-expected Olympics costs.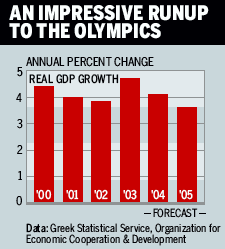 But after 2005 the economy should regain its momentum, thanks to the Games' positive legacy. For example, the hefty investment in Athens' transit system will boost productivity for many years. And, assuming the Games are a success, economists say they will give a boost to Greek national pride, spurring consumer and business spending. "The psychological impact -- Greeks feeling they are among the most advanced countries -- should not be underestimated," says Paul Mylonas, chief economist at National Bank of Greece. Greeks may become more willing to accept badly needed reforms, such as more transparency in government and business.
Meanwhile, the balance of payments should improve after big Games-fueled capital goods imports stop. A successful Olympics could attract up to 450,000 more tourists a year until at least 2011, predict travel experts. That alone would add some $1.1 billion a year, or 0.6%, to GDP.
Of course, if the Olympics are hit by a terrorist attack, tourists could desert the country. But short of that event, Greece could benefit from the Games -- and outperform the rest of the euro zone -- for years.
By David Fairlamb in Frankfurt
Before it's here, it's on the Bloomberg Terminal.
LEARN MORE