CACI Is Helping Uncle Sam In Iraq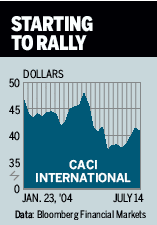 As a government contractor doing business in Iraq, CACI International (CAI ) has had more than its share of public scrutiny. When word spread that some of its employees had interrogated prisoners, the General Services Administration opened an investigation of its contracts.
News of the probe knocked the stock down on May 27 by 5%, to 37. Since then, the GSA has found the company's papers in order, and the stock has rallied to 41. Richard Cripps of Legg Mason says it could hit 52 in a year. Advest Group has a buy rating on the stock, too, with a target of 53. Cripps says CACI shares are trading for just 17 times earnings for the fiscal year ending next June, according to estimates by Legg Mason (LM ), which does investment banking for the company. The price-earnings ratio could mount as prisoner-abuse headlines fade and investors focus on CACI's steady 20% annual earnings growth, he says.
Growth comes mainly from U.S. outlays for security, info-tech upgrades, and outsourcing. CACI, a government contractor for all of its 42 years, is a pure play on the trend. Some 93% of its $1.1 billion of revenues come from the federal government.
Gene Marcial will be back next week.
Note: Unless otherwise noted, neither the sources cited in Inside Wall Street nor their firms hold positions in the stocks under discussion. Similarly, they have no investment banking or other financial relationships with them.
By David Henry
Before it's here, it's on the Bloomberg Terminal.
LEARN MORE