U.S.: Don't Be Spooked By Sorry-Looking Stats
Despite recent weak reports, growth should still hit 4% in the second half
If you took off for the beach or some other vacation spot before the July 4 weekend thinking the economy was in great shape, you returned to some unsettling news. The June labor markets looked downright weak. Big retailers such as Wal-Mart Stores Inc. (WMT ) and Target Corp. (TGT ) reported disappointing results last month, and June car sales tanked. Has the recovery hit a wall, dimming prospects for sales, output, and jobs in the second half?
To be sure, second-quarter economic growth probably fell below expectations put forth just a few weeks ago. Economists have marked down, some by a percentage point, their previous average projection of a 4.4% gain in last quarter's real gross domestic product. The Commerce Dept. will report the official number on July 30.
It would be shortsighted, however, to extrapolate the recent weakness into your expectations for the second half. Most likely, higher prices for gasoline and other energy products, which caused the consumer price index to rise at a 5.1% annual rate so far this year, finally began to gnaw at household buying power. That explains the poor retail reports.
But by early July, the average price for regular gasoline had fallen for six weeks in a row, from $2.06 per gallon to $1.90, suggesting some moderation in the overall CPI this summer. The danger, of course, is a resurgence in oil prices. Crude prices topped out at more than $42 per barrel in late May and fell to below $36 by late June, but by July 7, they were back up to just over $39 on fears of supply disruptions. Still, unless crude prices surge anew, cheaper gasoline will help restore some of the lost household purchasing power, enabling spending to rebound in the second half.
In addition, after slowing in the second quarter, business outlays for equipment are likely to speed up as companies take advantage of the depreciation allowances that are scheduled to expire at yearend. Production, sales, and payrolls will also get a lift from businesses' efforts to restock their current inadequate levels of inventories.
True, growth in the second half of 2004 won't look as robust as that of the second half of 2003, when tax cuts fueled a 6.1% surge. But the economy has the supports it needs to grow at a 4% pace in the next two quarters.
WHAT, THEN, TO MAKE OF June's soft employment report? Clearly, the gain of just 112,000 new nonfarm jobs was a head-turner after the economy averaged 304,000 in the previous three months. Plus, the average workweek dropped 12 minutes, to 33.6 hours. And the percentage of industries adding workers fell to 57%, from May's 64.6%.
But the Labor Dept.'s jobs report runs counter to other more upbeat data, while some of the June softness can be explained by noneconomic events. First, new claims for unemployment insurance continue to average under 350,000 per week -- a level that, in the past, has coincided with job gains well above June's slim increase.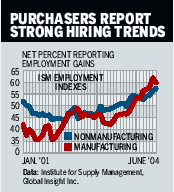 Second, Labor's survey of businesses occurred during the week that included the national day of mourning for President Ronald Reagan, when some businesses closed. That may have caused part of last month's steep decline in hours worked, which had been in a clear uptrend. In particular, the factory workweek slipped by 18 minutes, to 40.8 hours, even though the pace of factory output has picked up in recent months.
Third, the June job report is strikingly at odds with the views of purchasing managers at both manufacturing and nonmanufacturing companies. The Institute for Supply Management's measures of activity in both sectors fell from their May readings but stayed at elevated levels. The ISM's factory index is close to a 20-year high.
Most important, the ISM's index of manufacturing employment dipped only slightly from its 30-year high in May, and its index of employment in nonmanufacturing industries rose to the highest level in the seven years of record-keeping. By contrast, the government data showed factory payrolls falling by 11,000, after four monthly gains in a row, and only a 122,000 rise in service-sector jobs, the smallest since February. Even service industries that are known to be strong right now, such as health care and finance, posted smaller job increases than in recent months.
THE ANOMALIES DON'T STOP THERE. Construction payrolls did not grow in June, even though starts of single-family homes in May continued to rise, and sales of new homes hit a record. Also, construction spending continued to climb in May, and the high level of activity will support further outlays in coming months. As a result, construction employment is likely to rebound.
Even with June's small gain, payrolls so far this year are growing at an average clip of 211,000 jobs per month. Hiring could easily sustain that pace in the second half. For example, that rate would be consistent with the economy growing about 4% and with productivity gains slowing to about 2%, a reasonable second-half scenario.
In addition, it's worth noting that the growth rate of payroll jobs measured by the Labor Dept.'s survey of businesses has now come back into line with Labor's data on jobs calculated from its survey of households. Previously in this recovery, the household measure had outperformed the payroll tally. Now the two gauges show yearly job growth at nearly the same pace.
What's interesting is that the payroll data have adjusted upward to meet the household data, suggesting that the household survey late last year may have been giving the better signal on job growth. In June, the household survey showed a solid job increase of 259,000, with the jobless rate holding at a 2 1/2-year low of 5.6%.
EMPLOYMENT GAINS in coming months are likely to recover some of the weakness seen in June. But the loss to second-quarter household incomes from higher inflation will not be recouped as quickly. Because of the jump in energy costs, higher inflation has offset much of the 7.2% gain in wages and salaries, and it has taken away a big chunk from household buying power.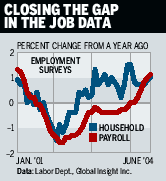 In fact, June hourly earnings of production workers, who comprise about four-fifths of private payrolls, were up 2% from the year before. But surging prices mean real wages of production workers are now falling for the first time in nine years. Economists at Morgan Stanley (MWD ) estimate that the runup in energy prices from December to May cut spending power by roughly $50 billion.
Because of that "tax" on consumers, real personal spending probably grew at an annual rate of less than 3% last quarter, well below the 4.3% pace of the previous four quarters. A slowdown in consumer outlays is one key reason for the downward marks to second-quarter real GDP growth.
But those revisions don't automatically mean second-half prospects should be marked down as well. Steady job and income growth, along with more capital investments by businesses and some inventory rebuilding, will very likely provide the demand needed to keep this economy growing at a pace of at least 4% through the end of the year. It would be a mistake to write off this recovery just because of one month of sorry-looking data.
By James C. Cooper & Kathleen Madigan
Before it's here, it's on the Bloomberg Terminal.
LEARN MORE