India: Inflation Will Take A Toll On Growth
India's economy came roaring back last year. In the fiscal year ended this March, growth hit a 15-year high. But a repeat performance is unlikely if inflation accelerates and the government can't rein in its budget deficit.
In the first three months of 2004, real gross domestic product grew by 8.2% from the year before. Agricultural output was up 10.5% as farmers continue to reap the benefits of last year's good monsoon season, following three rain-starved years. Industrial output also accelerated in the period.
As long as rainfall is at least normal this year, farmers should do well again. And since a majority of the country's workforce is still involved in agriculture, another good harvest will keep domestic demand going. Low interest rates and increased demand at home and abroad are expected to raise factory output and fuel capital investment. Overall, the government expects real GDP to expand by 7% to 8% this fiscal year.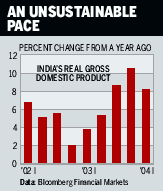 Private economists, however, see growth coming in nearer to 6.5%. One reason is inflation. The widely watched weekly wholesale price index for the week ended June 19 rose 5.9% from the year before. A rate above 6% now looks likely. The government pushed up gas prices by 6% in June, and further hikes are possible if crude prices remain high. The weakening currency is also hurting the economy: The rupee has fallen 6% in the past two months.
Higher inflation could force the Reserve Bank of India, which expects prices to rise 5% this fiscal year, to lift its key policy rate from a decades-low 6%. A rate hike, possibly as early as the RBI's next policy meeting in October, would crimp the nascent capital spending upturn.
Despite a law mandating the government to trim its budget deficit by at least 0.3% of GDP, economists see the gap rising to 5% or more, from 4.6% last fiscal year. Tax revenues are currently above year- ago levels, but the Indian National Congress party, elected in May, wants to lift social spending. Plus, government coffers will feel the pinch from the planned slowdown in privatizing state-owned businesses.
By James Mehring in New York
Before it's here, it's on the Bloomberg Terminal.
LEARN MORE