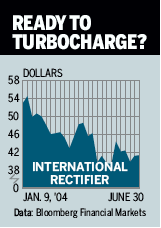 Its name sounds like a throwback to 40 years ago, when 'tronics stocks were hot. But today, International Rectifier (IRF ) seems as plugged into the future as ever. It makes increasingly specialized electric devices for energy-efficient appliances and cars, as well as power control chips used in computers, telecommunications, and military weapons. Think variable-speed washing machine motors, electric turbochargers, drone aircraft, and 25% long-term earnings growth, says Edward Hemmelgarn of Shaker Investments, which owns 1.5% of the $2.7 billion stock.
Hemmelgarn says that the stock, which has foundered along with semiconductor stocks recently, is headed from 41 to 60 by this time next year. His argument: Rectifier's business is growing where it counts most, in high-profit-margin products that use its special technologies. Proprietary products, as opposed to commodity items, generated 60% of revenues in the quarter ended March, up from about 50% two years before. At the same time, gross profit margins climbed to 40% from 30%. Analysts tracked by Thomson First Call estimate the company earned $1.59 for the year through June 30. They expect $2.54 next year. Standard & Poor's (MHP ) says Rectifier is more attractive than peers in semiconductors. Its target on the stock is $55 within 12 months.
Gene Marcial is away for several weeks.
Note: Unless otherwise noted, neither the sources cited in Inside Wall Street nor their firms hold positions in the stocks under discussion. Similarly, they have no investment banking or other financial relationships with them.
By David Henry
Before it's here, it's on the Bloomberg Terminal.
LEARN MORE