Italy: Gloom Could Ruin Rome's Budget Plans
Italy's economy is recovering, but at a subdued rate, hobbled by rising oil prices and pessimism. The lagging pace of economic growth will greatly complicate Rome's budget plans.
Consumers and executives are growing more concerned about the economy's direction. The index of manufacturing confidence in June unexpectedly slid for the second month in a row. Rising inflation and excessive inventories are worrying executives. However, Italian exporters, at least, are benefiting from faster growth in the U.S. and Asia. Increasing shipments overseas are likely to lift Italy's real gross domestic product this year. Real GDP is expected to grow between 1.2% and 1.4% in 2004. Either pace would be better than the 0.4% growth of 2003, but it will lag the expected growth of about 1.8% for the entire euro zone.
Although consumer confidence rose in June, the index hovers near a 10-year low, held down by oil-related inflation worries and weak labor markets, with the jobless rate at 8.8% in April. Household spending had begun to recover. In the first quarter, it rose 0.8% from the fourth quarter. But the annual inflation rate rose to 2.4% in June, the highest pace in six months, cutting into buying power.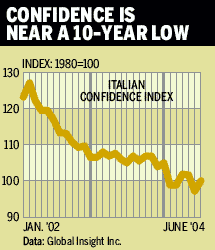 A weak economy is compounding Italy's budget problems. For two years now, the government of Prime Minister Silvio Berlusconi had relied on one-time real estate sales and tax-amnesty programs to lift revenues. Now, Italy's auditors are urging the government to cut spending permanently to keep the deficit from exceeding the European Union's limit of 3% of GDP. Unless Berlusconi takes drastic action, the nation risks being rebuked by the EU's finance ministers for missing the target. There's also a chance its bond rating will be downgraded.
Berlusconi has pledged to meet the EU's target in 2005, by cutting spending and extending the amnesty plans. But the moves aren't coming fast enough to please voters. Berlusconi's party lost key local elections in Milan in June.
Certainly, faster economic growth would boost tax revenues. But with both businesses and consumers so gloomy, domestic demand probably won't pick up quickly enough to solve Italy's fiscal problems.
By James C. Cooper & Kathleen Madigan
Before it's here, it's on the Bloomberg Terminal.
LEARN MORE