British American: Tobacco Without The Flames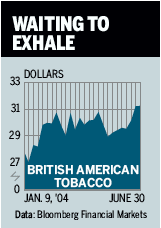 Just as smokers crave cigarettes without cancer risk, investors long for tobacco company cash flows without litigation risk. At British American Tobacco (BTI) ), the fear of litigation, if not the fact, is being eased by the sale of its U.S. business, Brown & Williamson Tobacco, to R.J. Reynolds Tobacco (RJR ). The stock rose 5% after U.S. regulators approved the deal on June 22. David Winters, CEO of the Mutual Series mutual funds, which own 2.5% of the stock, says: "Even from here we'll make another 20% to 30%" in 12 months. Also, the dividend yields nearly 5%. Shares trade at about 10 times 2005 estimates by analysts, says Thomson First Call. Winters says earnings per share will grow about 15%. The reason: Synergies from deals and cost savings at headquarters will lift earnings and fund buybacks to reduce shares outstanding. The company is just starting to reap benefits from buying Ente Tabacchi Italiani in December. It will own 42% of the new RJR. Growth should come from emerging-market countries with growing populations. Morgan Stanley (MWD ) analyst Jonathan Fell sees shares rising only 4% but says the cash flows are attractive at a time of low market returns.
Gene Marcial is away for several weeks.
Note: Unless otherwise noted, neither the sources cited in Inside Wall Street nor their firms hold positions in the stocks under discussion. Similarly, they have no investment banking or other financial relationships with them.
By David Henry
Before it's here, it's on the Bloomberg Terminal.
LEARN MORE