Varsha Rao
Lesson learned: There's a huge opportunity to create new brands, both online and off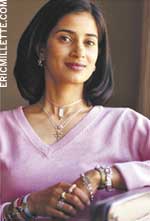 Age: 34
First try: Eve.com, an online cosmetics retailer
New Venture: Zoelle, a jewelry designer and retailer
Where: San Francisco
Employees: Two, plus contractors
Varsha Rao is one of the lucky ones. Eve.com, the online cosmetics retailer she co-founded in 1998, was once one of the hottest companies on the Net. But it wasn't perfect: It sold what were essentially commodity goods, and it grew too fast.
In its third year, Eve.com had annual sales of $10 million and employed 110 people. It had signed up 250 cosmetics brands to be sold through its Web site, even though many cosmetic company execs claimed women wouldn't buy online. Eve raised $30 million from venture capitalists, but was sold -- and eventually shut down -- before it ever turned a profit. "It was an incredibly competitive environment," recalls Rao. "The goal was to be the biggest, to own the customer, and then to generate profit."
Rao's new venture, San Francisco-based jewelry company Zoelle, sells only original designs. They're available in stores such as Saks Fifth Avenue and through Zoelle's Web site. Many pieces can be personalized with engraving, and Rao says these have become the company's best-sellers. Even Zoelle's packaging -- pink with fuchsia ribbon -- is distinctive.
Rao aims to create a "younger, hipper Tiffany" by appealing directly to women rather than the men who often buy jewelry for them. She advertises in women's magazines, not on mass-market tv or outdoors. "This is for women, by women," she says.
Rao is building her company at a measured pace. She runs a tight, almost virtual ship and contracts out most tasks, including jewelry design. Temps are brought in when needed. She takes the time to test ads in different markets. It's paying off: Her self-funded company is on track to do a half-million dollars in sales this year and is already profitable. "Eve showed me there is a huge opportunity to build new brands," says Rao. Especially if you're offering something no one else can match.
By Amy Cortese
Before it's here, it's on the Bloomberg Terminal.
LEARN MORE